The best tool bags for plumbers help make them perform their tasks more efficiently. Since the job's nature forces plumbers to move around a lot with heavy tools and materials, the tool bag they use isn't a matter to overlook.
People need plumbers regularly. As long as water keeps running, the demand for plumbers will continue to grow.
In this article, I will be discussing the best tool bags for plumbers.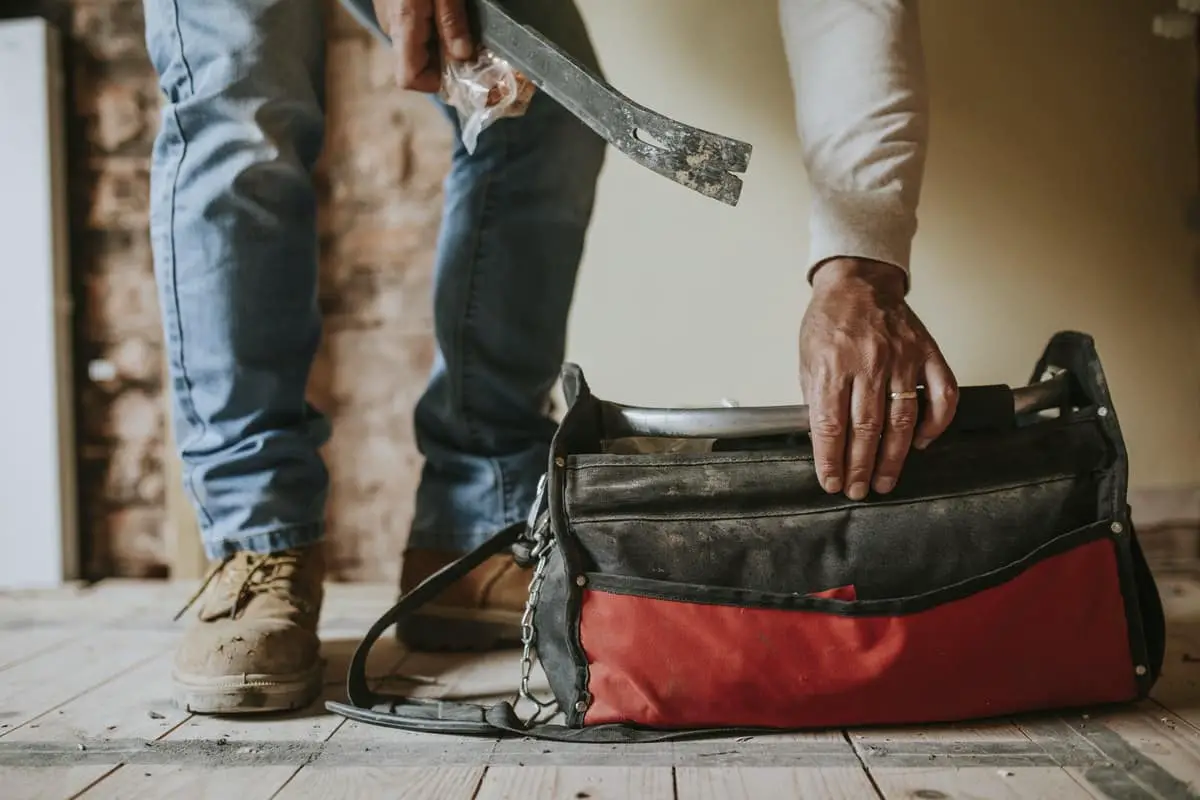 Best Tool Bags for Plumbers
Here are our top picks for the best tool bags for plumbers.
Check on Amazon
The Dewalt DG5543 Tool Bag for Plumbers gives you what you need without breaking the bank. The bag comes in two sizes: 12-inch and 16-inch. There's even an option to buy the tool bag with other options: Drill bit set, multi-purpose zip bag, screwdriver bit set, or screwdriver bit set with case. So, there are a lot of variety and price range options with this tool bag. 
Pros:
The tool bag gives you the option to access tools easily because of its pop-open design and wide interior that gives you enough space to reach out for tools and parts easily.
Superior organization: this heavy-duty tool bag comes with 33 pockets for better organization options. Also comes with a flap-covered pocket with a hook and loop closure.
Because of the harsh tools used by plumbers, this tool bag comes with base protection. The tool bag's base is made with abrasion-resistant rubber feet.
To ensure comfort for the plumber, the tool bag is comfortable to carry with an adjustable shoulder strap.
Cons:
Doesn't come with heavy-duty zippers
The shoulder pad comes off with very heavy usage
Considering all the functionalities that come with this bag, the affordable price surely is a plus.
Check on Amazon
The CLC Custom LeatherCraft 1539 Multi-Compartment 50 Pocket Tool Bag is best overall in terms of budget, durability, variety, and functionality. The tool bag comes in one big size which is 18-inches. With this tool bag, you have the option of buying other tools alongside. An 11-in-1 screwdriver, roll pouch (32 pockets), bucket boss, tool carrier, and clip-on poly bags.
Pros:
Superior organization: this tool bag comes with 50 pockets so you can easily organize all your tools and accessories related to plumbing
It has vertical pockets which help in quickly and easily accessing tools 
The tool bag comes with zippered side panels which prevent the spillage of tools when carrying or storing the tool bag somewhere
This tool bag supports the carrying of large tools in the center compartment and also has space for smaller tools and accessories in separate outside compartments
Cons:
The bag weighs a lot even when empty
The shoulder strap comes off with heavy usage
This tool bag is suitable if you're looking to invest a bit more in a long-lasting durable tool bag. Since it provides a plumber with all that he needs, every dollar paid is worth it in this tool bag.
This CLC Custom Leathercraft L255 Tech Gear is the best when it comes to a plumber's comfort. It differs from regular tool bags because it isn't carried on the shoulder, but on the back. Hence, more comfort and the ability to carry heavier tools if needed.
Pros:
The tool bag has many pockets that are categorized into 28 tool pockets, 14 accessory bit pockets, and 11 multi-use pockets for better organization. 53 pockets overall. It also has a dual compartment design for more organized tool storage.
Durability: this tool bag comes with large base pad feet to aid in reducing wear and abrasion
This tool bag has two straps for larger tools such as the cordless driver, cordless drill, and battery charger
Comfortable handles built in this tool bag aid in the plumber's easy transport of the bag. The shoulder straps are adjustable and padded with a sternum strap and back padding for added comfort
This tool bag comes with a built-in LED light that comes in three levels if the plumber needs to cover a wide area or close-up work.
Cons:
A bit on the pricey side compared to the other tool bags
Comes in only one size
The base doesn't allow the bag to stand up on its own
This tool bag is suitable for plumbers that are looking for comfort and durability all in one bag. The LED light sure is a huge plus if the plumber is working in a dark area or at night, it sure will come in handy. Overall, this tool bag is a good buy.
Check on Amazon
The ToughBuilt Massive Mouth Tool Bag is a great option for those who are looking for a bigger-sized tool bag with lots of size variety. You have the option to choose between 4 sizes: 16-inch, 20-inch, 26-inch, and 30-inch. All sizes are more on the bigger size to carry more and bigger tools.
Pros:
The 16-inch size is budget-friendly
Comes in a variety of sizes
This tool bag is very heavy duty. It protects your tools because of its heavy-duty construction and its rigid plastic liner
Manufactured with rugged rubber feet and plastic-lined outer pockets to protect your tools
Great for ease organization of the tools because it comes with 38 pockets and loops. 
This tool bag is highly durable. The octagonal design allows for maximum protection of tools and equipment. Also, allows the bag to stand up when left somewhere.
This tool bag is manufactured in a way that lasts for a long time. For added security and safety, the bag comes with a lockable compartment.
The tool bag comes with a limited lifetime warranty
Made to stand up against the toughest environment with its high quality and durability
Cons:
Is more on the heavy side because if its big sizes
If you're looking for bigger sizes with high durability and functionality, then this tool bag is definitely for you.
Check on Amazon
When you see this tool bag, the first thing that comes to mind is security. This tool bag may not be for everyone, but as long as you leave it within sight, you'll benefit from the large space obtained from not having a zipper. This tool bag comes in two sizes: 16-inch and 18-inch.
Pros:
Comes with 33 pockets for better-organized tools. Some of them include a quick-clinch level cradle utility knife pocket, electrical tape strap, and measuring tape clip
The Dewalt tool bag focuses on the comfort of the carrier by featuring a comfortable shoulder strap that is adjustable, non-slip, padded, and has a padded bar handle for additional comfort
Has an open-top design which results in easy tool access during work. Also, the collapsible bar handle aids in visibility and better access to tools in the bag
The construction of this tool bag aims in making it a heavy-duty tool bag with its poly and ballistic poly fabric construction. Also, the tool bag includes base pads to protect the base of the bag from sharp tools
Cons:
Having no zipper makes this tool bag prone to theft or loss of tools
When it comes to visibility and easy access to tools, this bag is a win-win. However, I do not recommend purchasing this bag if you don't plan on keeping it in sight at all times or working in a safe environment. Other than that, the bag is highly durable and has all the space you need.
Features of the Best Tool Bags For Plumbers
Convenience
To be organized as you perform your plumbing duties, you need a tool bag that has compartments, such as internal/external pouches to store tools.
Consider your needs. Do you need to store tools that take up more space, such as those that are corded? Then you need to look out for tool bags which offer bigger compartments in addition to small compartments.
Ergonomics
The best tool bags for plumbers come with ergonomic features such as cushioning on the straps and even weight distribution.
Durability
If your tool bag can last longer and not fall apart after a short while of usage, it can save you money in the long term.
The best tool bags for plumbers are reinforced tool bags made of durable material.
How We Tested the Best Tool Bags for Plumbers
We tested a wide range of tool bags to evaluate which bags are the best. First, we took our usual set of plumbing tools and stored them in the tool bags. Then, we evaluated the bags according to the following criteria:
Is the bag comfortable to carry on the go?
Is the bag durable?
Can the bag hold all my tools without any difficulty in closing the bag?
Does the bag have adequate compartments for storing small and large items?
The bags which scored positive to the questions above made it into this list of the top 5 best tool bags for plumbers.
Why are Tool Bags Important For Plumbers?
Plumbing isn't an easy job. Plumbers need to lug around a variety of tools to perform their work correctly including fixtures, installation, and repair. Not only this, but plumbers usually need to carry these tools on the go, as they provide their services to different customers.
By the year 2026, the U.S. Department of Labor forecast that the demand for plumbers will increase by around 16 percent, whilst the average growth rate of other industries is 7%. The main reason behind this tremendous increase in the demand for plumbers and tool bags for plumbers is that the late generation is now retiring leaving a significant gap in the plumbing industry. Youngsters are choosing to work in corporate jobs. The demand for plumbers far exceeds the number of available plumbers. Hence, plumbers are finding themselves getting much busier. The need for an organized tool bag to increase efficiency on the job becomes very important.
Conclusion
If you've reached the end of this article, chances are you're either working as a plumber or considering this career path. Water is a necessity in every human being's life and many of our operations. Therefore, we owe plumbers appreciation for the work they do. 
This job sure isn't an easy one. It requires a lot of training, education, and experience. Another thing that makes plumbing hard is the knowledge needed to know how to safely use the various tools needed. 
The very first thing you notice when seeing a plumber is that they are always carrying a huge bag of tools everywhere they go. Their tool bag is full of heavy equipment, tools, and accessories. Hence, every plumber shouldn't overlook the necessity of buying a high-quality tool bag since it's something they use daily for long hours. 
Of course, everyone's needs are different. Some plumbers aren't concerned with the price tag when looking for a suitable tool bag and search for comfort and space. Others' main priority is the price of the tool bag while still having fair features. No matter what you're looking for, I've consolidated in this article several tool bags for plumbers depending on your priority. 
So, buckle up and get ready to kickstart your plumbing career or upgrade the one you've already started with one of the tool bags listed above. They have been carefully curated to bring you the best choices out there on the market.