Disappointed with your pressure washer pump? Then the time has come to pick the best pressure washer pump. In almost 90% of the cases, the replacement pumps outrank the built-in ones. So, replacing the faulty pump can be a great boost for your cleaning tasks.
Being the powerhouse of a pressure washer, the pump works as the mitochondria! It accelerates the water flow so that the stream can remove grime, sludge, dirt from the surfaces conveniently.
So, a decent pump is key to enhance the performance of the pressure washer. Here we have reviewed some best power washer pumps followed by an exclusive buying guide.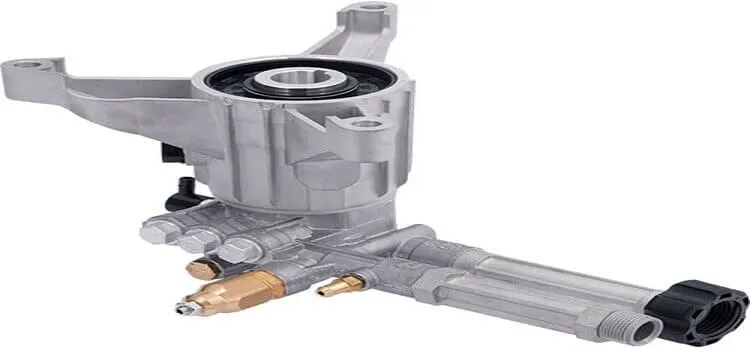 Before we jump into the review segment, let's discuss the first things first.
Do You Need to Replace Your Pressure Washer Pump? 
No matter how expensive your power washer pump is, it won't provide consistent service after a certain period. So, it is essential to know when & why you need to replace it. Some common phenomena are given below:
Not Fulfilling Expectations  
It will be an infrequent occasion when you are satisfied with the default pump. But if it satisfies you, then congratulations!
What if it's doesn't? That is when you need to replace the metal junk with an effective one.
Apart from these reasons, there might be some other occasions when you feel it's high time to replace the default pump.
Replacement Pumps are Way Better
Most of the time, the pressure washer doesn't come with a decent pump. Although a pump is the core part of the whole machine for generating power, some companies sometimes overlook its importance.
Hence, a lot of replacement pumps offering tons of awesome features to fulfill your demand.
Older Model Pumps
If you own a power washer that has gone through some severe depreciation, you should change it without consideration.
Because every day, technology is reaching a new height. With the older models, you won't get those facilities that are available today.
However, knowing when you should go for a new replacement pump is also an essential part of owning a pressure washer.
Repairing not Worthy of the Money
When you own a wobble power washer, pump repairing is not a solution for fixing the problem.
Because these kinds of pumps don't possess enough built-quality. Furthermore, you can replace a pump at the same price as repairing it.
Beyond Repair
When the pump is damaged or not up to the expected condition, it's better to repair it. But most of the pumps are so delicate that repairing becomes critical.
In such circumstances, you need to replace it with a newer one instead of repairing the faulty pump. Moreover, power washer pump parts are challenging to find. So, changing it is the best idea in almost 90% of the cases.
Best Pressure Washer Pump Reviews
RMW22G24-EZ-SX Pressure Washer Pump – 2400 PSI
A top high-pressure pump manufacturer makes this pump. So, the product ensures top-quality performance. It is replaceable with a wide variety of brands, including Sears, Porter-Cable, John Deere, etc.
This vertical plunger pump is capable of pumping a maximum of 2.2 gallons of water at 2400 PSI.
The pump is made of die-cast aluminum alloy. This is why the build quality is excellent for this pump. This pump weighs only 6-lbs. It also has a double gasket sealing system.
The two-bearing system assists the shaft and piston to work appropriately where the shaft diameter is 7/8-inch. Besides, the 3-piston volumetric pump ensures sustainable pressure. It spins at a speed of 3400 RPM.
Pros
The pump has pre-filled oil
Convenient to use
It has EZ technology
Thermal relief valve ensures the safety
Makes less noise
Cons 
180º rotation sometimes creates a bit problem
The warranty period is not satisfactory
Why is this best?
This product from Annovi Reverberi is best for residential use. It has a pressure controller and also a chemical injector. You will find every essential tool with it that a 'best pressure washer pump' should have.
BXD3025G Power Washer Pump – 2500 PSI
The comet BDX series is the ultimate pressure washer pump series for household cleaning. Yet, with efficiency, you will get professional level excellence from it.
It is an axial plunger pump that has an adjustable unloader. The machine can produce 2500 PSI, and it is capable of pumping 2.8-gallon water per minute. Besides, it fits with almost every horizontal engine.
The built-in easy start system makes it convenient for operating. Also, the plungers are made of stainless steel. So, it would be rust-free no matter how long you use it. The product ensures a long lifespan because of the top-quality materials.
Pros
Makes less noise
Comes at a reasonable price
Durable design
Easy operating system
There's a built-in key
Cons
The pump is heavyweight
Not that easy to install
Why is this best?
Because of the ball-bearing design, it runs quietly. You won't confront any issues while using it for regular cleaning. It offers a one-year warranty as well.
Himore Honda Excell Pressure Pump (2400-2600 PSI)
The compact design of the pump makes it easily adjustable with HONDA motors. It uses advanced technology to make a perfect connection with the power washer. Full installation takes roughly 12 minutes or less!
This horizontal pump has a diameter of 7/8-inch. So, for the engines which have a 7/8-inch shaft, the pump is the best suit for those. The machine generates 2400-2600 PSI. It can pump at 2.3-2.4 gallons per minute.
It only weighs 6.62 lbs, which is, no doubt, a lightweight design. The reliable performance of the pump makes it more desirable within the budget. Besides, the product offers a thermal relief valve and engine shaft key.
Suitable for: XR2500 XR2600 XC2600 EXHA2425 XR2625
Pros
Solid construction set up
Operates flawlessly
Consistent pressure producing ability
Fits with all HONDA motors
The fabrication of the pump prevents leaks
Cons
Makes a bit of noise
Poor customer service
Why is this best?
Once you buy this device, your cleaning process will be more comfortable because the pump's operation is hassle-free. You are good to go right after the quick installation of the pump.
SRMW22G26 Pump Rebuild Kit – 2600 PSI
Annovi Reverberi is one of the renowned manufacturers. The company uses the best technology to build pumps. This model is no exception. Moreover, it is probably the best of the bests pump among the other 2600 PSI models.
This triplex plunger pump is equipped with EZ technology. Thus, it is easy to start and operate. It has a chemical injection system along with a mounting flange. The unit can pump 2.2 GPM water. This pump is for gas-powered engines.
The shaft diameter is 7/8-inch, which can be connected with vertical gas engines. Additionally, the piston can reach 3400 RPM within no time. The build-in pressure control valve supports the whole system to run smoothly.
Pros
Affordable price
Fantastic design
The product is pretty lightweight
Convenient operation
EZ option for effortless starting
Cons
Rotatable 180 degree
This model is not for horizontal engines
Why is this best?
Stunning and futuristic designs, along with steady performance together make this model the most desirable pump.
Vertical Shaft Pressure Washer Pump – 2700 PSI
Your default power washer pump won't last for a decade; it's not hard to apprehend. And once it happens with you, choosing this pump from HOMELITE won't be a bad idea. Now replacing within your budget is not a dream.
This product is capable of producing 2700 PSI. It is incredibly lightweight. Replacing the pump is much more comfortable with this vertical pump. Because of the OEM technology, it comes with pre-filled oil.
The unit provides external chemicals, a garden hose, unloader valve with it. It requires three screws for attaching with the shaft. Pretty safe, although there is no thermal valve.
Pros
The product can boost pressure.
Affordable price range
No issues with the bolt's size
Makes less noise
No need for oiling in general usage
Cons
It doesn't have a thermal release valve
Bad customer service experience
Why is this best?
Well, it can assist you for many years, thanks to the sturdy construction of the pump. You can save some extra bucks for deciding to purchase it.
Himore Universal Pump Kit – 2800 PSI 
With the universal HIMORE pump, you can easily upgrade your default one. Replacement is not a hassle anymore. This lightweight pump is suitable for vertical engines.
The pump is meant for producing 2800 PSI. It can pump 2.3 GPM and fit perfectly for numerous power washer models. This water pump has a brass connection. For the decent materials, it ensures lengthened longevity.
The pump weighs only 6 lbs, which is exceptionally lightweight. Most importantly, the standard 7/8-inch shaft fits various power washer models.
The distance between mounting bolts and the center is four inches. This pump has OEM technology as well. Furthermore, it comes with pre-filled oil.
Pros
The connections are solid
No issues with installation
Lasts longer because of the reliable materials
Steady performance
Endurance level is commendable
Cons
The pump doesn't include bolts for mounting
Not suitable for horizontal engines
Why is this best?
The product's stainless-steel pistons enhance seal life. Along with numerous models, it fits perfectly with Honda engines also. Probably it is the best pressure washer pump for Honda engines.
YAMATIC Pressure Washer Pump (2500-2900 PSI)
Well, it is a premium power washer pump from the company YAMATIC. The pump is designed for vertical engine models. It produces high pressure with consistency once the pump gets connected.
In the power washer industry, this replacement pump is a beast. It assists in producing 2500 to 2900 PSI pressure. An easy installation system allows you to set the whole thing within ten minutes. It is the best fit for 5.5-6.5 horsepower engines.
The washer pump works quite well at 2.3 GPM. You don't need to let go of the pressure before starting the engine.
Moreover, the center shaft and mounting bolts are about 4-inches apart. You can expect a 3-year long service with a reliable design.
Pros
Super simple installation
It produces high pressure
Best for residential use
The product is budget-friendly
Reliable performance
Cons
The hose attaching area is narrow
Valves are not that good
Why is this best?
This model of pressure washer pump is best for its vertical 7/8-inch shaft. You will get 150 hours of running time from it. It is meant for a quick start and the best cleaning service.
AR RMV25G30D Pressure Washer Pump – 3000 PSI
This lightweight Annovi Reverberi RMV25G30D-PKG is a standard package for a power washer replacement pump. This horizontal machine is specially designed for gas-powered engines.
The product includes thermal relief. That is why the pump can stand in any optimum environment. The material of the plungers is stainless steel. It has an overall decent build quality.
The pump ensures a pressure of 3000 Pounds per Square Inch. 3-piston volumetric pump setup provides 2.5 GPM with the spins at 3400 RPM.
It has a detergent tube as well. Its EZ technology makes the commencing procedure easy and convenient. The EZ valve is installed inside the pump to release pump pressure.
Pros
The replacement pump is well-built
Very safe while cleaning the house
Decently fit for most of the vertical engines
The shaft is universal
Sound customer care support
Cons
Somewhat hard to install
Sometimes the motor gets stopped
Why is this best?
To be frank,  this pump is one of the best options in the market. The anti-corrosion finish gives it an attractive look. When you want quick and easy cleaning, the Annovi Reverberi RMV25G30D-PKG should be your go-to pump.
OEM HIMORE Pressure Washer Pump – 3000 PSI
The replacement OEM HIMORE pressure washer pump is comparatively new in the market, but it has already made a good impression with some decent features at this price point.
The lightweight design and built quality are the key selling points of the product. Despite such a small dimension, the pump can manage to produce 3000 PSI pressure. Also, the head of the machine is made of brass. It also has a thermal release valve.
The most praiseworthy feature is the pump suits most of the power washer models. The chemical injector makes the overall operation smoother. This device can pump a maximum of 2.5 GPM.
Pros
The thermal release valve is quite efficient
Compatible with various models
Rugged build-quality
High-quality performance
The device produces consistent power
Cons
Within this price range, features are limited
The warranty period is not satisfactory
Why is this best?
As a replacement power washer pump, this product provides decent service. You can use it for residential places, cars, and your garage as well.
SIMPSON 90029, Best Axial Cam Pump – 3100 PSI
The direct drive 90029 pressure pump from SIMPSON has a threaded M22 outlet connection. The unit offers better performance than other models in the 3100 PSI lineup. It can survive extreme conditions without compromising performance.
The unit is a horizontal axial cam pump that is built with OEM technology. And similarly, with other OEM technology pumps, it is filled with oil. It has a thermal relief safety system. You will find dual radial bearings with the pump for better function.
The mounting shaft key is 3/16, and the GPM is 2.5. The pump is also equipped with PowerBoost technology, here the good news is, this new tech is pretty close to get a patent. This feature helps to decrease vibration and make the pump even more efficient.
Pros
There is pre-loaded oil for better operation
Budget-friendly
The double seal feature prevent leakage
Easy to install
Simple to use
Cons 
The piston sometimes brings water while running
Customer service is not so prompt
Why is this best?
You can use this unit for everyday household cleaning. But in such cases, it may sound noisy than the other pumps. But the quality of the material is really commendable.
Atima Vertical Pressure Washer Pump 3200 PSI
Let us assure you; this is probably the best replacement pump in the market. In most cases, it works better than the default one. So, after moving to Atima vertical pump, there is less chance to be dissatisfied.
The product is the lightest among the 3200 PSI power washer pump models, as it weighs only 6.8lbs. It has a low-pressure detergent injection system. The safety valve ensures maximum protection from any unexpected incidents.
The pump offers longevity and 2.5 GPM. The advanced design makes it more compatible with the various branded power washers. Every component that comes with the pump is excellent. It also has a thermal release feature.
Pros
Easy replacement procedure
Simple starting option
Can survive the extreme condition
Highly consistent with the power
Material is top-quality Aluminium
Cons
Sometimes it sprays a weak stream of water
A bit expensive
Why is this best?
The company has added 120ml of oil inside. Thus, the pump is safer. You don't need to refill the oil for general cleaning purposes.
AAA, Best Commercial Pressure Washer Pump – 3500 PSI
As this AAA 90037 triplex plunger pump is the fourth one from the SIMPSON product lineup we are featuring, you can easily assume this commodity's quality.
This direct drive horizontal pump can generate a maximum of 3500 PSI pressure. The product is highly efficient and can flow 2.5-gallon water per minute. It has a dual ball bearing, which ensures friction resistance.
The thermal relief security restricts the pump from overheating. Besides, the pump reduces the stress on the engine. The machine delivers max-level performance.
In the case of professional usage, the pump can provide maximum support for an extended period. Therefore, the company offers a 5-year of warranty!
Pros
Thermal relief technology
The crankcase is made from standard material
Super easy to start
PowerBoost technology
The company uses brass to make the pump head
Cons 
Not for residential use
Replacing the pump requires a little more effort than others
Why is this best?
The pump is designed for delivering top-quality performance. Additionally, the oil seal technology abolishes the desire for a dipstick. The device is enough for producing power to get rid of obstinate spots.
AAA Triplex Plunger Pump Kit – 3800 PSI
AAA Pumps 90038 is a product from SIMPSON, a renowned brand. When it comes to replacing the pump, the company has numerous models to fit the machine ideally.
The unit uses PowerBoost technology and can produce 3800 PSI. Besides, the weight of the product is only 14-lbs, which is relatively lightweight. The shaft is 1-inch, which is best for horizontal engines. The crankcase is made of die-cast Aluminium.
Thus, it is nicely sealed and restricts contamination. There is less chance of lube failure. The stainless-steel piston ensures the long life of the product. Moreover, the unloader system is adjustable according to the demand of the user.
Pros 
It can run for a long time
The Aluminium crankcase is well-built
Easy to start
Thermal relief protects the machine
Convenient replacement procedure
Cons
A bit noisy
Not for residential use
Why is this best?
The power washer with a triplex pump is an excellent fit for professional use. Also, the pump goes with most of the gas-powered pressure washers. SAE gas engine flange is quite efficient as well.
Annovi Reverberi RSV4G40 Pump Review – 4000 PSI
The company has invested its sixty years of expertise in this RSV series. The pump can produce extreme power in optimum conditions.
The pump has a powerful motor that can add a maximum of 4000 PSI to the power washer. Additionally, the rotating speed is 3400 per minute.
Besides, its build quality is the best for industrial use. It can pass around four gallons of water in a minute. So, you can assume it possesses 4 GPM of capacity.
This product is designed for direct-drive gas washer engines. As it's a triplex plunger pump, it is a high-tech pump. The shaft size is one inch. RSV4G40 also has an EZ start valve.
Pros
Produces enormous power
Top-quality material
Consistent performance
Equipped with effective non-segregated unloader valve
It has an F inlet thread.
Cons 
Too powerful for simple household use
The product is somewhat expensive
Why is this best? 
The RSV4G40-PKG Triplex Plunger Pump is featured with a compact unloader valve. The estimated life of the product is around 500 hours. Furthermore, the design of the unit can make you overwhelmed.
Best AAA Industrial Triplex Plunger Pump – 4200 PSI
When you set your pump for replacement or seek the best pressure washer pump, the AAA industrial triplex plunger pump should be the right choice. Any sort of smudge is no longer an issue with this pump.
The pump is designed for most gas-powered pressure washers. Advanced technology like the oil seal eliminates the demand for the dipstick. It has thermal relied protection.
Thus, the product can endure excessive pressure but doesn't overheat. The pump has sight glass as well.
The PowerBoost Technology can quickly produce elevated pressure of 4200 PSI at 4 GPM. It is equipped with a dual radial ball bearing that is oversized. These ensure better wear.
Pros
Easy-start feature
The plungers are made of ceramic
Lightweight model
Well built-quality
It comes with a 5-year of warranty!
Cons
A bit noisy than usual
The pump is way more robust for residential use
Why is this best?
Within the price range, this product is capable of providing extended service. The pump mitigates the engine load and provides consistent power. It can survive the most stubborn cleaning condition.
Best Pressure Washer Pump – Buying Guide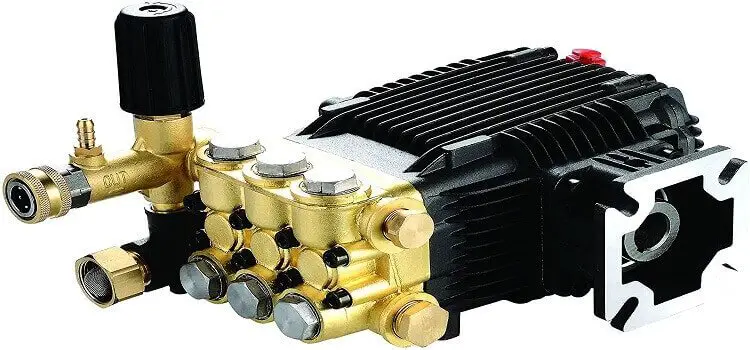 A power washer is a magic tool that comes to aid you at that moment when you are facing a hard time removing stubborn stains from any surface.
And the best power washer pump will ensure high performance. The force of the water is the key here to give a perfect wash. The fact is, a power washer makes the cleaning job ten times manageable.
Still, remember that a pressure washer is nothing but a metal junk piece without a steady, robust pump. So, determining the best pump is a kind of a crucial part of the process of professional or household cleanings.
Types of the Pumps 
You can choose any pump among the three types. The classification is based on the working procedure of the pumps. These types are best for different cleaning processes. The types include:
Triplex Pumps
Axial Pumps
Wobble Pumps
However, two other types exist in a broader concept. But we feel discussing those in this post won't be appropriate. Among these types, you must be wondering which kind would be perfect.
Henceforth everything is here that you need to know.
Triplex Pumps
When you are a professional cleaner or seeking top-notch output from the pump, then pick a triplex. There is no alternative to triplex when it comes to performance. These pumps can produce high pressure sustainably for a more extended period.
The efficiency level of it is almost ninety percent. For those pressure washers that can produce 3000 PSI or more, triplex pumps are the best suit.
The triplex pump uses the technique of car engines. Thus, it can throw the water with maximum velocity.
Moreover, the pump can handle extreme tolerance in high pressure. Because of these features, this pump is a must-have item for heavy-duty power washers.
Axial Pumps 
When you require a less powerful pump than triplex yet efficient for the cleaning, then Axial is the right pick for you. Its design is much different and is also capable of handling enough GPM. The pump doesn't work as a car engine.
It can also manage high pressure and water flow. One drawback of the pump is, it becomes quite warm while using. Besides that, it can provide you an extended lifespan only if you maintain it properly.
Wobble Pumps
If you demand a low-pressure pump for your regular simple cleaning, then these pumps can satisfy you. Its efficiency level is around seventy-five percent. The design itself degrade the consistency level.
Among the other types, it has the shortest lifespan, a maximum of one to two years. If you aren't lucky enough, remember, these pumps are tough to repair. So, if in any case, you have to fix it, it is always better to replace it with a new pump.
Wobble pumps are entry-level stuff. So, having high expectations from it won't be a smart idea. But then again, if the work doesn't require extensive cleaning, you can grab one.
Overall Performance
As all pumps are not the same, you can't expect equal performance from all of them. Check the PSI and GPM of the washer. You have to select a suitable pump for your cleaning.
Suppose you are a professional cleaner. In such a scenario, you can't take wobble pumps as you need robust performance. So, pick that pump that can serve your purpose without any performance issues.
The Durability of the Pump
When it is electrical, it can raise technical concerns no matter whatever tool you take. So, check the built quality whether it is good enough to sustain. Cheap quality pumps don't possess premium looking appearance usually.
But as it's a matter of power, consistency, reliability, and endurance, a better-quality pump can satisfy each of them.
Make sure the company is offering a sufficient warranty period. The best power washer pump often provides a minimum 2-year warranty.
Configuration of the Pump
While purchasing the pump, you should know its configuration. Read the guideline if needed. Because it reveals much essential information that may help you to decide whether to take it or not.
Brand Value of the Pump
The brand of the pump is also a big thing. Because the brand itself conveys a good vibe, so you will get to know that the product will also provide standard service.
In the end, it is up to you to make the ultimate decision. Grab the best one, and your washer is good to go.
How to Replace a Pressure Washer Pump?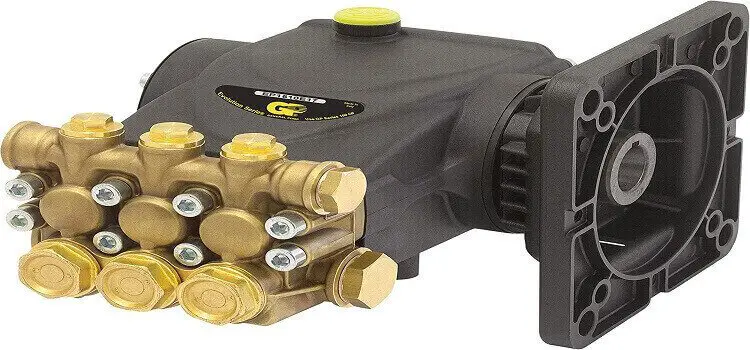 When you own a power washer pump, changing it is a common thing. But if you hire a professional, then it may cost some good bucks. When you can do it on your own, why would you even spend a penny?
The entire process requires some simple tools and a little know-how info. Don't worry. You don't have to be a master in any of them. Just be a little more watchful and try to grab everything that we are going to instruct here.
Replacing a pump requires some must-have tools like an Allen wrench. So, make those available within your reach.
Now follow the steps underneath.
Step #1 – Disconnect
Start with checking what type of pump you are going to replace. After that, the hoses which are connected with the pressure washer should be disconnected. Once the hoses are detached, place the pump on even ground.
Separate every plug, whether it a gas-powered pump or an electric one.
Step #2 – Spray Oil
Now, consider removing the nozzle. Spray oil on the pump flange. On those points where the flange meets with the engine, the oil should be on them as well. Here, we need to locate the pump.
By loosening the mounting bolt, the pump can be removed. The pump is usually connected to the lower side of the machine.
Step #3 – Lessening the Screw
 Three screws connect the pump to the washer. But horizontal pumps have four screws. Use the Allen wrench and align it with the bolts for rotating. After a while, the screws will loosen up, and the pump will ready to replace.
Step #4 – Remove the Pump
 Here we are on the step where we need to be careful. Because while removing the pump, losing control is a common incident. Use a little force and detach the pump from the crankshaft.
Step #5 – Make the New Pump Ready
Before transferring the new pump, make sure it matched perfectly with the washer model and configuration. Place the pump in position. Slide it inside on the shaft and watch the nut points are on the spot to hold it.
Step #6 – Place the Pump 
By utilizing little force and torque, tighten the nuts. Do not use excessive pressure. After reinstalling the Allen head screws, check whether the pump is set correctly.
If it shakes with the movement, then tighten the nuts a bit more. The mounting holes need to be clean for holding the pump securely.
Step #7 – Reconnect the Hose
Reconnect the nozzle and hose with the pump. Reinstall the chemical injection tube. But before reinstalling those evaluate and make sure every part is clean. Otherwise, you may face a clogged nozzle or injection tube.
Step #8 – Give it a Functional Test Run
Don't you want to check everything is working fine?
Plug the cord and push the start button. Make sure the pressure is consistent. If the new pump is working fine, then congratulations! You have successfully replaced the pump on your own.
Tips for Smoother Replacement 
Use good quality penetrating oil.
Always rotate the wrench anti-clockwise for loosening the bolts.
Consider reading the manual that comes with the pump for installing.
Make sure you are installing a suitable model for the washer.
After detaching the old one, clean the crankshaft and the nut holes so that these don't create problems while mounting the new one.
If you need anything, then call someone from your family or neighborhood to help you out. However, you won't need it.
Still, in case of any difficulty, you can call the professional to assist you.
A pressure washer is an expensive stuff. You don't want it to be damaged because of the leaky pump. Instead, change it before the situation gets out of control. You can repair the pump as well, but you know, it depends.
FAQs About Power Washer Pumps
No matter how strenuously we try to convey every possible information about the power washer pump, there will still be a ton of questions floating on your head. See if you find any quarry similar to yours.
Q1. How much it costs to replace a pump?
Sometimes replacing the pump is cheaper and more comfortable than repairing it. It alters from time to time and depends on what type of pump you are using for cleaning.
You can conveniently change the pump for less than a hundred bucks. And obviously, you will get a high-quality replacement pump.
Q2. Is replacing a pump tough? 
Many people think that replacing a pump must be a complicated job. But trust us, it's not like that as it sounds. Go through the section above that contains a detailed process of replacing a power washer pump.
Q3. Can I replace the pump with any model?
No. Unfortunately, you can't. First, check whether you have a Triplex, Axial, or Wobble pump. Triplex models are somewhat expensive than other models.
So, change accordingly with the specific type of pump. The triplex pumps are meant for heavy cleaning jobs. Likely, these types of devices last longer as well.
Q4. How long can a power washer pump survive? 
A replacement pump's expected lifespan is around 80 to 100-hour operation. Wait, don't get panicked; we have counted the lifespan according to the usage. It's not like the countdown will start right after buying it.
But the higher quality pump can survive up to 500 hours as well. However, those pumps will cost you more than the average quality models.
Q5. How much oil should I use in it? 
When the pump has OEM technology, it comes with prefilled oil. Once the oil runs out, you can refill it for regaining competence.
You don't need to fill the reservoir of the pump. Pour the oil near about 75% of the size of the reservoir.
Q6. How to clean the pump?
There is a simple way to do it. First, switch off the power washer.
Now take out the pump and place it on solid ground. Then secure every nuts and bolt of the pump because there is a high chance of losing while washing it.
Attach the garden hose with the pressure washer. And let the engine run and start cleaning the pump with the flow of water. Three minutes of continuous water flow can wash the pump thoroughly.
If you are done with the process, then put the pump on its bay and reconnects everything.
Need a more detailed guide? Click on the link to learn how to clean a pump like a pro!
Q7. What is the difference between Axial and Triplex pumps? 
Triplex pumps are way faster and robust compared to axial pumps. A triplex pump can generate more pressure and provide seamless performance.
On the other hand, axial pumps are direct drives. This means the pump spins at an equal speed as the engine. They have a lesser lifespan than triplex pumps.
Final Verdict!
In this post, we have discussed the pumps which are best for either residential or commercial use. We hope that any of these pressure washer pumps from the list will fulfill your demand out of a countless number of options.
So, take your time and choose according to your need and budget.
Let us know what you are thinking by commenting below or through e-mail. We are eager to hear you out, anytime! Happy cleaning!