Are you tired of cleaning your dirty garage, driveways, sidewalks, cars, and many more? Do you need the best solution that can handle those cleanings around your home with little to no effort? If your answer is "Yes", then you need to have the best gas pressure washer for home use.
There are certain home appliances that we need to own to live a comfortable life. Among them, a pressure washer is very handy to help us accomplish tedious cleanings. The more and heavy your cleaning tasks, the more powerful washer you need to buy.
As you are here for getting some insights about the gas power washer for home, let's assume that you are determined to go for the gas power washer. Because there are some key differences between gas and electric power washers.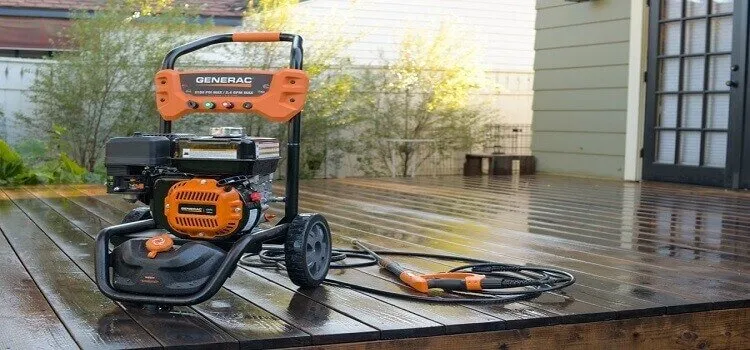 Best Gas Pressure Washer for Home Use- 2021 Reviews
A gas power washer needs to have some features and capabilities to become the best gas pressure washer for home use. Only one or two factors do not label a washer as the best one. So, we need to look into a couple of important factors to figure that out.
To offer you the best possible way, we have taken every ins and outs of a pressure washer into consideration. Our team has tested 47 gas power washers and researched an estimated 19 hours to come up with the list of top 5 products.
To give you a comprehensive guideline, we have divided this article into three major segments. In the first segment, you are getting the reviews and after that the buying guides, and last of all the FAQ.
Generac SpeedWash Gas Pressure Washer
SpeedWash 7122 is one of the finest gas pressure washers from Generac for home use. It has come up with a robust Generac 196cc OHV gasoline engine. The engine can generate up to 3200 PSI that is more than enough for home stuff.
You might know that the most important part of a power washer is its pump. The SpeedWash 7122 is simply outstanding as it comes with one of the best pressure pumps, powerful brass horizontal pump. The pump, for its amazing design, offers a long-lasting and maintenance-free service.
It has a Powerdeal gun so that you can adjust the water pressure during your cleaning task. The ergonomic design of the trigger ensures smooth and comfortable operation.
One of the striking features of this pressure unit is its power broom. The power broom features a 12-inch surface coverage. It offers 4 high-pressure nozzles so that you can clean 4 times faster than the standard nozzle.
The power has come up with a smart cleaning attachments package. It offers a turbo nozzle that can be used to remove stubborn dirt and grime irrespective of surfaces. Due to this turbo nozzle, your cleaning will be at least 30% faster than that of the regular nozzle.
To improve the cleaning effort the unit offers a soap blaster. The sturdy soap blaster helps you penetrate tough stains in no time. SpeedWash 7122 gas power washer is great for home but can be used commercially.
Product Specifications
Material: Plastics and Metals
Engine: Generac 196cc OHV
Weight: 62 lbs
Dimension: 24.2 x 18.9 x 35.5 inches
Maximum pressure: 3200 PSI
Traffic: 2.7  GPM
High-pressure hose length: 30 ft
What We Liked
Horizontal and durable power pump that saves you a lot of money
Water Broom is simply outstanding
The ergonomic design of the power gun
Smart power attachments package
Separate soap blaster
The 3-Year long warranty period!
What We Didn't Like
A bit costlier though reasonable to its performance
Very powerful washer. So, the power hose could have been longer
You need to follow the maintenance rules strictly to avail the warranty
SIMPSON MS60763-S MegaShot 
Simpson Cleaning Megashot is a very popular and heavy-duty gas power washer. It is an ideal washer for home use as it offers so many features that facilitate a homeowner.
MS60763-S MegaShot has been the talk of the city among the gas power washers duty its engine. The pressure washer has come with a stunning residential engine powered by Kohler. This powerful engine is capable of producing a water flow of 2.4GPM and a maximum pressure of 3100 PSI.
Another great and notable feature of the power washer is its axial cam pump. The pump is having OEM technology that minimizes engine load while offering stunning performance. It also offers the maintenance-free operation of the power pump.
The power unit has a heavy-duty steel construction frame. The steel frame is to withstand the heavy power that the unit produces. To offer smooth and hassle-free movement, the power washer offers 12-inch never-flat wheels.
Factory tests 100% functionality of all the products. So, it brings up a minimum level of residual fuel. Here, the important part for you is the packaging lot. The product comes assembled and you can use it on the word go!
Among the so many features, 5-Quick connector nozzle tips are remarkable. The nozzle tips will offer you the freedom to set the pressure level. Thus, you will get the opportunity to adjust the water flow rate depending on the surfaces.
Product Specifications
Material: Heavy-duty steel construction
Engine: KOHLER® RH265 residential
Weight: 63 lbs
Dimension: 33 x 18 x 23 inches
Maximum pressure: 3100 PSI
Traffic: 2.4  GPM
High-pressure hose length: 25 ft
What We Liked
Durable and long-lasting construction
Highly efficient residential engine
Classy M22 hose connection
User-friendly ergonomic design
Kink and abrasion-resistant quality
The 2-year engine warranty!
What We Didn't Like
Some plastic portions of the unit are of low quality
Great for the homeowner not for the commercial purpose
Initially, the engine is hard to start though eases with time
PowerBoss 3100 PSI Gas Power Washer
Powered by the durable Honda engine, the PowerBoss 3100 PSI gas pressure washer has got every feature you need for your home. The unit has come up with a Honda GC190 engine which has a 187cc cylindrical dimension.
This pressure giant is capable of generating a water flow rate of 2.4 GPM at 3100 PSI. This much pressure is ideal for a homeowner who has a range of cleaning tasks. But, this pressure washer wouldn't be profitable if you want to use it for commercial purposes.
Like other best gas power washers, this unit has an axial cam pressure pump. When you have the axial cam pump, you have nothing to worry about the maintenance cost.
One of the important factors that made us enlist this unit is its PWMA certificate. PWMA stands for Pressure Washer Manufacturer's Association. When a power washer gets certified by PWMA, you can buy the washer without giving a second thought. Why? Because after passing some stern tests, a power washer gets this certificate.
The PoweBoss 3100 PSI pressure washer has several features that are convenient for home use. Among them, the integrated detergent tank and 10-inch pneumatic wheels are simply outstanding. The capacity of the detergent tank is 1-gallon! So, it will surely help you to use your favorite detergent solution. The pneumatic wheels ensure smooth movement and tackle the weight of the power washer.
The unit has a 2-year limited warranty for residential use and a 3-month limited warranty for commercial use. We don't recommend the unit for commercial use. If you need a gas power washer that is great for home as well as commercial use, buy the SpeedWash 7122.
Product Specifications
Material: Plastics and Metals
Engine: HONDA GC190
Weight: 62 lbs
Dimension: 24 x 22.5 x 20.5 inches
Maximum pressure: 3100 PSI
Traffic: 2.4  GPM
High-pressure hose length: 25 ft
What We Liked
Durable Honda GC190 Engine
PMWA certificate
Comfortable spray wand and smart quick-connect tips
The upright design of the product makes storage easier
Integrated 1-gallon detergent tank
The 2-year consumer warranty!
What We Didn't Like
Though it generates 3100 PSI, it can't tackle heavy/commercial duty
The pneumatic wheels are great but their big size is not
SIMPSON Cleaning CM60912
CM60912 is the cheapest gas pressure washer of the reputed brand Simpson. Even, the price of the unit is less than that of some electric pressure washers. But, the performance of this pressure washer is superior to any electric power washer in every sense!
If you are a medium-level homeowner, then this power washer should be your first choice. There are several reasons to go for this pressure washer. It weighs only 39 pounds which is 35% less than that of the rest of the power washers on our list! This lightweight gasoline washer can tackle light to medium-level cleaning tasks very professionally.
Simpson Cleaning CM60912 comes with a fully assembled package. All you need is just unpack the power washer and refill the gasoline. After that, you are good to go! The steel frame of the pressure washer is powder-coated. Thus, it prevents the washer from any sort of corrosion.
To maximize the machine's performance, it is equipped with a 149cc Simpson OHV engine. Moreover, the OEM axial cam pump produces enough pressure to clean your dirt and grime. As a result, you will get sufficient power that a mid-level homeowner looks for.
The high-pressure sprayer of the unit is ergonomically designed to give your hands a bit relax. To provide you the opportunity to move it freely and store it without taking much space, it has a fold-able and compact handle.
This pressure washer has 6-inch never-flat wheels. As the wheels are smaller, it takes less force to move and adds up little weight to the overall weight. Simpson gives you a bonus 1-gallon detergent tank with this little cleaner!
Product Specifications
Material: Plastics and Metals
Engine: Simson 149cc OHV engine
Weight: 39.6 lbs
Dimension: 19.5 x 14.25 x 23.5 inches
Maximum pressure: 2400 PSI
Traffic: 2.0 GPM
High-pressure hose length: 30 ft
What We Liked
Lightweight yet effectively powerful
Versatility and ergonomic design of the handle and sprayer
OEM technology-based axial cam pump
2-stainless steel nozzle tips
Fully assembled feature
Cheapest price of the product
What We Didn't Like
Complex locations of the water inlet and outlet
Each time after connecting the hose, you have to manually untwist it
Wheels could have been 1 or 2 inches larger
A-iPower APW2700C High-Pressure Washer
The A-iPower APW2700 is a high-pressure washer that intends to clean driveways, sidewalks, boats, RV's, gutters, roofing, stucco, and many more around your home. This gas power washer unit is ideal for the toughest jobs of a homeowner. Don't be fooled by its rated PSI, it produces the solid power that removes your dirt and grime with fun!
The APW2700C has come up with a powerful and reliable OHV 196cc gasoline engine. The engine generates enough power to blow a water flow of 2.3 GPM. The pressure this unit produces takes very little effort from the user end to clan any surfaces.
The unit has the axial cam pump that tackles the pressure production job. The pump is reliable, durable, and takes no extra maintenance cost. The pressure unit features a compact and durable upright design. The upright design is easy to transport and store when not in use.
To provide you the freedom of setting the surfaces, it has 3 quick connectors. These connectors/nozzles are easy to set up and use. For accomplishing the toughest domestic cleaning tasks, these nozzles become handy.
The product comes almost assembled. As a result, you need to work on a minimum assembly job. Just following the user guide is enough even for a rookie homeowner to do that. The unit has an ergonomically designed spray gun to offer you maximum comfort. With the 25 ft high-pressure hose, you will be able to clean a reasonable distance.
Product Specifications
Material: Plastics and Metals
Engine: Generac 196cc
Weight: 62.9 lbs
Dimension: 21 x 18 x 22 inches
Maximum pressure: 2700PSI
Traffic: 2.3  GPM
High-pressure hose length: 30 ft
What We Liked
The power of the unit even though it is rated as 2700 PSI
Versatility and capability of handling a range of cleanings
The easy-start feature that ensures the start-up at first pull
So much reasonable price as a gas power washer
The maintenance-free axial cam pump
Convenient 8-inch never-flat wheels
What We Didn't Like
Any contact of the power hose with the engine exhaust can damage the hose. So, you need to be careful of the hose movement
The hose is 25 ft but could have been longer
Buying Guide: Best Gas Power Washer for Home Use
The way a gas power washer can handle the cleaning task is splendid! In the same way, it costs money for buying and maintaining! So, you need to focus on the factors that make a power washer the best among thousands.
There are many factors and angles to determine and label a pressure washer. We will try to keep those things as easy as possible so that you can build a solid concept. We have taken the most important factors that need to consider while buying a power washer.
What to Consider Buying a Gas Pressure Washer for Home?
Several factors need to be focussed and we have taken important 7 of them. Hopefully, you will get the required guidelines to select the best gas power washer for your home. Read on the factors one by one and apply your insights on the above-mentioned reviews list. Thus, it will help you pick a suitable pressure washer for you.
Gas vs. Electric Pressure Washer
The first and foremost factor is the power source. Well, we know that you are here for a gas power washer and not for the electric one. But, you need to be clear here as the level of power and the level of sound noise produced by gas and an electric power washer are not the same by any means.
If your home tasks account for the gas pressure washer you should go for it. On the other hand, if you have a light to medium level cleaning task, you don't need to buy a gas power washer just to fulfill your hobby! In that case, you may buy a powerful electric washer like a 3000 PSI pressure washer.
Manufacturer/Brand
It is no joke that in most cases intelligent and smart parents give birth to intelligent children. In the same way, you need to pick the reputed and smarter brand to get the best pressure washer. A low-quality brand may offer some striking features but can't give as much value as the established ones. We have enlisted the most reputed and organized power washers on our list.
Pressure/PSI
You might know that PSI stands for Pressure Per Square Inch. PSI is the ultimate calculator that determines the power of pressure washing. It determines the level of cleaning a pressure washer can tackle. Typically, an electric pressure washer is for light to medium cleaning tasks whereas heavy and professional jobs are handled by a gas pressure washer. So, be sure of your necessity.
Pressure Pump/Motor
A pressure pump of a power washer builds the water pressure. So, the best quality pressure washer has to have the best quality pressure pump. Furthermore, among all the parts of a pressure washer, the pressure pump is the most valuable. It sometimes has the price of more than half of the entire pressure washer! So, you need to make sure that you are buying the power washer that has the best pressure pump.
Material Quality
Plastic and metal combination is the most common material for any pressure washer. But, some gasoline pressure washers devoid of plastic material. Plastic material is not bad in any sense if the quality of the plastic is standard. So, we have considered this factor. You need to focus on the material before you buy one.
Durability/Warranty
Investing in a gas pressure washer is not something we do very frequently. It costs a handsome amount to buy a gas power washer. So, you need to make sure that the product you are buying is durable and has at least a 2-year warranty period. By doing so, you will be able to give your mind some hazardous and tension-free moments. We have tried our best to offer you some durable gas pressure washers that have a warranty period.
Echo-friendliness
Do not forget that a gas power washer creates more sound pollution than an electric one. Furthermore, we don't want to irritate our beloved neighbors by giving them the taste of the harsh noise that a gas pressure washer produces. So, we have picked the power washers that produce less noise pollution. You need to focus on this crucial factor before buying a gas power washer.
FAQs Related to The Gas Power Washer
Q1. What is the best gas pressure washer to buy?
Answer: To read the complete review go back to the top of this article. Or, you may skip the reviews and buy directly following the link below:
Overall Best-

Generac SpeedWash7122

Best Value-

A-iPower APW2700C

For the Money-

Simpson Cleaning CM60912
Q2. How much pressure do I need to clean my home stuff?
Answer: It depends on your property. For a small to medium homeowner, anything from 2000 PSI to 3000 PSI is enough. But, depending on your property you can buy a 2000 PSI to 3500 PSI pressure washer.
Q3. How to start a pressure washer?
Answer: If you don't know the exact process of starting a gas power washer, we recommend you to learn the SOP. Click on the link to learn how to start a gas pressure washer.
Q4. Why does my gas pressure washer shut off when I let the trigger go?
Answer: Your gas power washer may shut off for several reasons. Among them, the most common reason is the faulty unloader valve. Learn all the reasons along with their troubleshooting process. Click on the link: Pressure Washer Shutts off when I let the trigger go.
Q5. What types of problems may a gas power washer turbo nozzle encounter?
Answer: Learn the most common problems of turbo washer and their troubleshooting. After getting the knowledge from our coverage, you will be able to troubleshoot on your own like a pro. Click on the link: Pressure Washer Turbo Nozzles Problems & Solutions
Final Verdict
A gas pressure washer will certainly give you tremendous support around your home. But, you have to keep in mind that, the power of a gas pressure washer cuts money off your pocket. So, you have to be careful about the scheduled maintenance of the pressure washer. Otherwise, the maintenance cost will go up and merits will turn into demerits.
We hope that our article was helpful and you are now fine to pick the best gas pressure washer for home use. But, if you are still struggling to pick one of these top five gas washers, we would like to guide you one more time.
If your cleaning task is huge and you need a commercial-grade yet home-use gas pressure washer, buy Generac SpeedWash7122. If you are looking for a mid-level and truly capable gas pressure washer, buy A-iPower APW2700C. And last of all, to get the cheapest gas pressure washer from the reputed brand Simpson buy Simpson Cleaning CM60912.