You might have dozens of options to choose a 4000 PSI pressure washer depending on the motor & pump, PSI rating, features & specs. But, as you are looking for an aggressive yet reliable power washer that can hit the hard surfaces with stunning outcomes, you need to pick the right one.
Well, we are going to offer you a filtered list compiling the best 4000 PSI Pressure washer on the mess of so many options. Hopefully, the list would help you find a new hope of ray in your searching desert!
Let's dive in-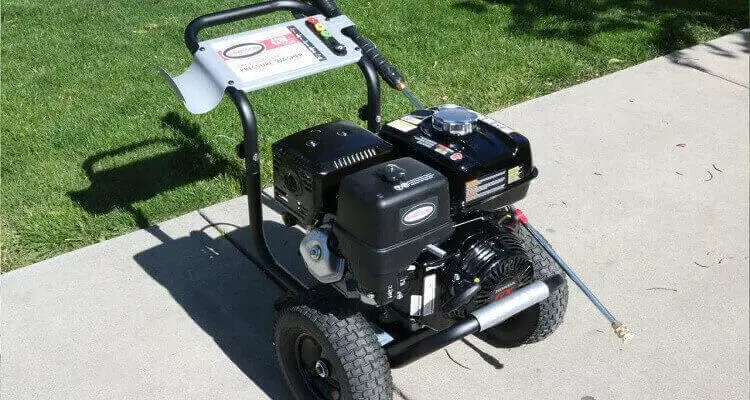 Why Should You Buy a 4000 PSI Pressure Washer? 
Before going to the detailed reviews, we would like to answer a very popular question that frequently knocks almost everyone; why should you buy a 4000 PSI pressure washer?
Let us clear all the reasons first.
Heavy Performer
Almost all the 4000 PSI power washers are heavy performers. They are most suitable for professional cleanings. Whether you pick an electric model or a gas-powered one, both can be used for commercial, industrial cleaning, and maintenance purposes.
Professionals of Graffiti removal, Paint Preparation, Wood Restoration can accomplish their tasks using them. In the industrial area, cleaning the heavy-weight equipment (washable by water) also becomes easier when you have this power giant.
Faster Action
Having 4000 PSI on your washer indicates you are having too much power on your machine that can produce a hard cleaning. Generally, this power washer intends for professional use. But if you can handle it cautiously, it also can be used for residential purposes. More PSI means more power!
You can strip paint, splint wood, and carve a line on any concrete surface once you start to operate this tool. For professional purpose, this machine is hundred percent okay. But for personal use, you need to be attentive during the cleanings.
Versatile
They are so powerful and versatile that they can remove any hard stain accumulated on any hard surface.
Removing the stubborn dirt, loose flaky materials, old paint from your old wall/ fence, removing older dirt spots from the backyard passage-everything you could do using these power giants.
Both Commercial and Home Use
People often think it might be only perfect for commercial or industrial usage as it is so powerful. Thankfully, you can also use this washer to remove any dirt or unwanted object from your home wall, fence, wood, etc.
Lifting any oil strain from the garage floor, washing the car, denting the vehicle body-also can be comfortable with this powerful pressure washer.
Best 4000 PSI Pressure Washer Reviews
When you have multiple options, it becomes overwhelming to select the best among them. To sort out that, we have researched extensively to select some excellent and most demandable pressure washers.
Let's dive into their reviews followed by the buying guide.
If you prefer an electric power washer to a gas one, you may skip the first 6 products.
SIMPSON Cleaning ALH4240 Aluminium – (4200 PSI)
SIMPSON Cleaning ALH4240 is the best pressure washer in the 4000 PSI range. If you are searching for a hard cleaning washer that features optimum quality with minimal residual fuel & odor, this unit will quickly come in the topmost position.
It is a versatile tool that can manage any of your hardest cleaning fleets related to maintenance, equipment cleaning, outdoor home maintaining, and construction cleaning.
The superb aggressive engine combining with the CAT Triplex pump can deliver a boom-basting cleaning performance with satisfying maneuverability. The frame of this cleaner is made with aluminum to make it almost aircraft standard lightweight. Additionally, it comes with five quick-connect nozzles, 50 ft hose pipe.
It is one of the most durable and ergonomic 4000 PSI pressure washers. Moreover, the industrial triplex pump used in this unit can give an outstanding performance. Using the 13 inches tires of this pressure washer, you can enjoy easy access to different terrain.
Though it can be used for your personal home outdoor cleaning, professionals of Graffiti removal, Paint Preparation, Wood Restoration could find the unit perfect for their professional usage.
Highlighted Features
Advanced Seal Technology pairing with Ceramic Coated Pistons
4 pcs quick connect nozzles with one soap nozzle
3/8 in. X 50 ft. Steel Braided Hose Pipe
CAT Triplex Plunger Pump
13″ Premium Pneumatic Wheels
However, since we have got an issue about the warranty and the packaging of this product, we suggest our readers be sure about these matters before purchasing it.
Champion Gas Power Washer – (4200 PSI)
A powerful 389cc engine is the heart of the Champion 4200 PSI power washer. This unit offers a professional cleaning through an overall practical design in the targeted area/object.
It has five nozzles, two ten inches tires, a high-pressure rubber hose (50-foot length), along an AR Triplex Brass Head Pump.
The items also included with this product are- Engine Oil, Oil Funnel, Nozzles, Trigger Gun, Wand, and Detergent hose, etc.
Champion is ideal for commercial cleaning, like Siding, Stairs, Decks, Boats, RVs, Farm Equipment, Paint Preparation, Vehicle cleaning, Removal of old paint from wood, and so on.
Though this power washer is intended for commercial cleaning, you can utilize it for your selective home pressure washing as well.
Champion is one of the user-friendly, easy-to-use, and powerful gas pressure washers that you can trust.
Highlighted Features
Champion 389cc engine
Triplex Brass Head Pump
Rubber High-Pressure Hose
50-foot Commercial Grade Steel Braid
Quick Connect Nozzle with a Detergent Hose
Some parts of Champion have alignment problems, especially at the initial setting time. So you may not expect this tool will anticipate a mass working output.
SIMPSON PS4240 Gas Pressure Washer – (4200 PSI)
The striking point about SIMPSON PS4240 is that it has a durable, powder-coated steel frame that is corrosion-resistant. It is also equipped with a HONDA GX270 engine, which further features an AAA Triplex pump with a low shutdown characteristic.
Another significant matter about this model of SIMPSON is- it has a powerful spray gun, which gives aggressive but consistent water spray quickly.
It is a versatile pressure cleaner that holds a patented technology with enhanced performance and long lasted life. Users can get a satisfying pressure washing in various sectors like- residential, paint preparation and CAMPER/RVs, and so on.
The Steel-Braided Monster Hose with a 50 feet length is kink & abrasion-resistant. Moreover, it is further enriched with quick connect fittings & Polyurethane Outer Jacket.
It's a big and powerful machine. Additionally, the HONDA engine runs this machine superbly for a longer time. Unlike any other cheap pressure washing machine, it gives a friendly and easy starting.
Highlighted Features
HONDA GX390 engine w/ Oil Alert
AAA Industrial Triplex Plunger Pump
Welded Steel Construction Frame
13″ Premium pneumatic wheels
5 Quick Connect Nozzle
We have got few complaints about the Pump and the hose come with the products. Users got a pump that was prematurely damaged only after 13 months of use. And the hose fitting was a little bit tricky; need few trials for snapped to the gun.
Pressure Pro E4040HC Gas Power Washer – (4000 PSI)
Using a garden hose can often clean your backyard or other outdoor surfaces & equipment. But when you need a more powerful cleaning, either for commercial or personal purposes, you need powerful gears.
Fortunately, Pressure Pro has brought a heavy-duty professional power washer for a user like you. This tool is made with a 13 horsepower GX390 Honda engine to offer the machine an easy start with zero noise. It is a gas-powered power washer that features a CAT pump.
However, you will get five quick-connect spray nozzles which are further assembled with a professional graded insulated gun & Wand.
The 50 ft. non-marking and steel-reinforced hose pipe also can withstand high pressure.
Pressure pro made with an aircraft graded aluminum frame (lifetime warranty!). Therefore it is exceptionally lighter in weight. You can easily change the cleaning terrain with this tool.
This machine also features a 50 mesh inlet filter, adjustable pressure unloader, low oil shutdown capability, and two pneumatic air-filled tires. Additionally, dual padded feet (shock absorbable) make this washing tool more elegant & popular worldwide.
Highlighted Features
Powerful 13 Horsepower GX390 Honda Engine
CAT Brand Triplex Plunger Pump
Thermo Sensor (for preventing overheating on the engine)
3/4″ Cold-Rolled Steel Threaded Axle
50 ft. Steel Reinforced Hose
Only the drawback that can pull you back to purchase this powerful gear is, it is a little bit expensive compared with the competitors. Besides this, it is a little bit noisy and imperfect for residential usage.
Generac 6565 Gas Powered Pressure Washer – (4000 PSI)
Generac has a super performer power washing tool to offer you. It is ideal for cleaning your patio furniture, scrubbing older dirt/paint from concrete, even preparing the car for repainting, and vice versa.
You might have heard about axial cam pumps. It is such a great pump, isn't it? The excellent feature of the unit is it has four times durable Pump named Pro-grade Triplex Pump.
So what makes Generac so powerful? Obviously, the 420cc Generac OHV Engine! The engine can run the machine at a faster rate for aggressive but reliable cleanings. Also, as a safeguard to this engine, Generac has another nifty feature, i.e., Low Oil Shutdown Sensor. Therefore, users can enjoy a durable engine life efficiently.
With the unit, you will get five different Quick Connect Nozzle Tips with a Soap applicator. The sizes of the nozzles are 0°, 15°, 25°, 40°. It will spray water at an efficient flow rate, covering all angles need to clean.
Also, we should mention the Oversized Pneumatic Tires, which offer max mobility with a hundred percent shock absorption.
Highlighted Features
Pro-Grade Triplex Pump
Powerful 420cc Generac OHV Engine
Low-Oil Shutdown Sensor
Oversized Pneumatic Tires
You may face difficulty fitting the hose on the wand. Also, the wand may be snapped from the gun after several months of using this washer.
NorthStar Gas Cold Power Washer – (4000 PSI)
If you want a fast cleaning to save your time and money, NorthStar could be one of the options. It has 4000 PSI with 3.5 GPM, so you can easily do any toughest cleaning with your fingertip.
This power machine can blast through any hard surfaces (mud, concrete, wood, brick wall, equipment). As it gives the fastest cleaning, therefore takes less time and thus burns less fuel.
Whether you need to clean or maintain property or equipment, your job station or home garage, factories, industries, or business-NorthStar is perfect for all cases.
The powerful Honda engine provides a reliable aggressiveness to this power washer. It offers an easy start, enhanced power, low fuel optimization, durable run time almost at a noise-free operation.
You can define this tool as one of the most durable power washers. This tool is equipped with a premium quality CAT Triplex Pump which can deliver field-proven dependability.
NorthStar has a greater resistance with a long-lasting life span; the quality build-up can ensure your tool will never meet pre-mature wear and tear.
Unlike many competitors, it is easy to push; offers an easy shift to other terrains. You will enjoy a low vibration while running this machine.
Highlighted Features
Large Sturdy 15 inches Turf Tires
Reliable 350cc Honda GX390 OHV engine (Low Oil Shutdown facility)
Premium CAT Direct Triplex Pump (with EZ start, Ceramic Plunger, Chemical Injector, Forged Brass Manifold)
Durable 12-ga Tubular Roll Cage Frame
Push Down Style Steel Cart ( Balanced mobility)
Before using the unit, be sure that the uploaded bulb is properly fitted on the pump. A loose connection of this bulb can cause a loose wobbling in the related threads.
Mrliance Electric Pressure Washer – (3800 PSI)
Mrliance Electric Pressure washer is a brand name for extreme professionalism with tested field reliability. The cleaning power comes from a 200w super powerful motor included in this tool. It is one of the rated and most powerful electric pressure washers available on the market.
This machine is dedicated to various cleaning actions like-House, RVs, Trucks, Boats, Decks, Driveways, Terraces, Lawns, Swimming Pools, Backyard Passage, Outdoor Furniture, Garage Equipment, and so on.
It has five different working nozzles, perfect for fulfilling several cleaning scenarios. Four of those nozzles are for water spray and another one for detergent water/soap water. The large-capacity detergent tank is corrosion resistant and can hold enough cleaning agents to clean a larger area.
The interesting feature of the unit is, it has a double protect switch. It offers convenient and safe pressure washing using a 35ft/10.6m power cord. It features a built-in GFCI, suitable for multi sockets.
Mrliance is one of the most suitable, reliable, and portable high-pressure washing tools. Moreover, this tool is equipped with larger wheels, a 5M hose pipe, and a user-friendly power cord. The size, design, and compact nature of this tool offer a safe storage facility.
Highlighted Features
120V, 60Hz, 2000W Motor
16.5 feet Hose Length
0.3 Gallon Soap Tank Capacity
35ft/10.6 m Power cord
3800PSI, 3.0 GPM
A little bit tough to separate all parts. The remaining is okay. If you don't need to store this tool by separating each part, it is just perfect.
Suyncll Electric Power Washer – (3800 PSI)
When you need a good electric power washer for the price, Suyncll offers you the best. It is so lightweight and simple in design that even the hardest cleaning becomes a matter of fun.
It can deliver a lot of power without consuming any oil or gas. Already we said it is a simple and easily usable pressure washer. It works great to clean any strong dirt stuck on any hard surface.
Moreover, the trigger added here to holds a safety feature. It never allows an accidental pulling back. Additionally, the handy foam attachment makes the machine a more ergonomic power washer.
It is a multifunctional pressure washing tool, features a powerful 1800W motor. This motor can further deliver a 3800 PSI power with 2.8 GPM water flow rates. So, you will get the maximum output with the minimum effort.
Highlighted Features
Five Quick-Connect Nozzle with One Soap Nozzle
35 ft. power cords with the spray wand
Zero noise, zero water leakage
Well-designed water tank, big detergent bottle
Convenient air-filled wheels
Suyncll is not a fit for commercial or industrial uses.
iRozce Electric Pressure Washer – (3850 PSI)
What about a multipurpose pressure washer for your personal use? Sounds great, isn't it? Interestingly, iRozce is one of them. With high pressure from this tool, you can clean hard surfaces like concrete, wood deck, home roof, etc. Even you can move on for cutting off the snow from your car also.
Again with the minimal pressure of this tool, you can give a shower to your lovely dog as well.
It is a declared Foam Cannon for concrete, deck, patio furniture, and car washing. You will get a professional graded cleaning along with other details. Only for this practical usability, many users like this Foam canon nowadays.
However, the adjustable nozzles, onboard 20 ft. hose reel, can organize an easy but high-level cleaning even with a large range of moving. Generally, this tool can reach much higher compared to other cleaners.
iRozce has two durable wheels, Power Hose Hook, Spray Gun Holder, one Foam Cannon, and one Garden Hose Connector. It is like one in all power washing tools for any of your indoor or outdoor cleanings.
Highlighted Features
14.5 amp 1800 watt motor (can give 3850PSI & 2.4 GPM)
Automatic Shut Off features to save energy.
Professional Sprayer with adjustable Nozzles
On-board 20 ft. (6 m) Practical Reel
37.2 Inches Spray Wand. 20 ft. hose and 35 ft. Power Cord inches( with GFCI protection)
Lack of instructions on the user manual; how to attach the foam canon, how to hook up the wire, how to hold the wand etc., are not covered in details.
Kepma Electric Power Washer – (3800 PSI)
Kepma, one of the most professional and reliable brands which offers an electric pressure washing tool with a 2000w power motor. The application area for these tools are-Home, Car, Boat, RV, Driveway, Deck, and so on.
Kepma has a powerful induction motor to clean everything you need, from your car to siding. Compared with other electric power pressure, it takes less time to clean therefore less electric bill as well.
It didn't take too much time to get assembled. Only 10 to 12 minutes, that's pretty enough to completely assemble this power tool.
All using directions are very clearly written on the user manual, so easy to follow and implement. The overall quality of this tool is extreme; it is well made and offers durable service.
Kepma features an upgraded leakproof connection, powerful motor, professional-grade 20 ft. metal hose, adjustable nozzles with soap nozzles (5 pcs), Foam cannon, 35 ft. power cord, and so on.
Additionally, it includes one screwdriver to help easy assembling or disassembling job.
Highlighted Features
Automatic total stop system (TSS, GFCI)
Built-in onboard Cable hook
Easily fixable spray gun and Foam Cannon
2000 W motor power
3800 PSI with 3.0 GPM water flow rate
Built-in detergent tank
Leakage proof switch
We think the claimed pressure of the unit is somehow hyperbolic.
Best 4000 PSI Pressure Washer Buying Guide
You have 10 best 4000 PSI power washer names on your hand. Yet, if you want to move for an alternate option, we respect your choice. For clients like you, we are going to include a buying guide so that you can get the perfect product anytime and anywhere.
Determine Your Intension
What makes you searching for pressure washing? If it is for commercial or industrial pressure washing, you can move on to 4000 PSI pressure washing. However, 4000 PSI is also recommended for some of the home cleanings as well.
Moreover, the frequency of using this tool is also another important concern deciding whether you should buy it. If you need this only a few times, better you rent it.
Electric or Gas-Powered
You have both options for your pressure washing. Interestingly both these option features some pros and cons. Basically, an electric-powered washer is perfect for lighter use. But for heavy-duty commercial use, gas-powered is preferred.
Motor & Pump
A perfect and faster cleaning always demands a premium motor & pump. If your washer features a high PSI and high Water Flow Rate, the premium quality motor and pump are a must then. A low-graded motor & pump cannot take the overload of the high PSI.
A motor with specification 14 to 12 amps is perfect for any electric pressure washer.
Nozzles
The nozzle is responsible for spraying the water on the targeted position with the desired angle and focused intensity. However, you will get all the washer is offering with the same nozzle. Some may offer an all-in-one nozzle, whereas others may offer a set of interchangeable nozzles (color-coded).
Now, decide what types of nozzles you need for your pressure washing.
Water Flowing Rate
We have already decided that our washer has to have 4000 PSI. PSI defines pressure per square inch and the power of your washing tool. Now, decide how much water flow you need. Usually, a standard 4000 PSI features a 6 to 8 GPM (gallon per minute) water flowing rate.
Cleaning Unit (CU)
Multiply the PSI with the GPM. It will give you a result about the cleaning unit. The higher the CPU, the faster you will get your cleaning task accomplished. If you need a high workload cleaning task, go for higher CU on your washer machine.
Weight & Size
The electric-powered pressure washer has a lighter weight compared with a gas-powered power washer. A lighter weight or compact in size power washer offers a nice storage facility. Besides this, the user can move this tool with each angle need to clean the area properly.
A lighter weight also ensures it will pull less physical afford from the user. However, don't go for too heavy or too lighter pressure washers. Too lighter in weight indicates it is made from below-par materials.
Design &Built Quality
Obviously, a well-built pressure washer can exert a premium feel to its users. A user often searches the trendy design, quality built to get durable & comfortable cleaning tools with the best maneuverability.
A 4000 PSI tool must need to be built from premium graded materials, as it is intended for heavy industrial or commercial work.
A lighter power washer (for home usage) comes with a plastic frame with PVC hose pipes. For the 4000 PSI washer, the frame should be more solid and rigid.
Avoid plastic fittings (hose intake with outflow); rather than choose the brass fitting pressure washer, it will give you zero leakage at the pipe fitting areas.
Price
The price is one of the most important aspects to think about! Price needs to be well justified for anything we buy. As most of the pressure washers are a little bit expensive, so make a balance between your budget and the cost of the product.
FAQs About Pressure Washer
(1) Why use a power washer?
Answer: To clean the stubborn, older, heavy dirt from any hard surface. Like-removing the old paints from the wood, old pollution from the home wall, etc. You also can dent your car body; can remove the mold/gum/dirt stain from concrete-made structure using this tool.
(2) What is the importance of PSI on a power washer?
Answer: PSI is the important aspect of a power pressure indicating the total power of the machine. The more the PSI, the more powerful your tools are. So when you need a powerful cleaning, you need to have higher PSI (4000 to 7000 PSI). In the case of home power washing, a 3000 PSI pressure washer is more than enough.
(3) Which power washer is suitable for personal use?
Answer: A power washer with 3000 PSI is perfect for power washing your home. However, a 4000 PSI also can be used for home power washing.
Final Verdict
Our entire listed 4000 PSI washer is intended for industrial, commercial, and personal (limited) use. These tools can deliver you an easy cleaning process in a faster and convenient way.
Anyway, we have tried our best to enlist the best 4000 PSI Pressure Washer. All you can do is pick the most suitable one as per your demand, budget, and desire.
Happy Cleaning…