Over the last 130 years, Westinghouse has been enthralling the world with its great contributions to many fields including the power and energy sector. Westinghouse pressure washer bears the legacy of the great inventor sir George Westinghouse.
Westinghouse has got huge applaud for making power generators and pressure washers. Be it a gas power washer or an electric pressure washer, Westinghouse is committed to satisfying your needs.
So far, Westinghouse has produced both types of pressure washers (gas/electric). You can pick any of them without giving a second thought. Westinghouse has never compromised with the quality that what's you know about an American company, right?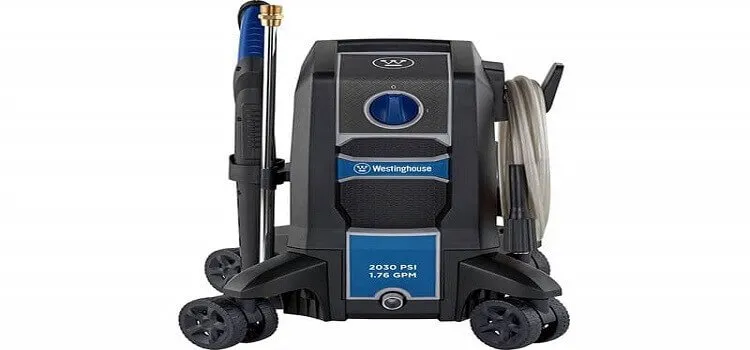 This article is dedicated to Westinghouse power washer reviews. As per the request of some visitors, we have displayed the background of the Westinghouse. If uninterested, you may skip and head on the reviews segment.
Who Makes Westinghouse Pressure Washer?
Westinghouse pressure washer is made by Westinghouse, a USA-based company. It was founded by a renowned inventor sir Gorge Westinghouse in 1869. He was born in 1846 in Central Bridge, New York.
Westinghouse amazed the world by inventing the rotary steam engine in 1865. In the year 1869, he made a revolution by inventing the air brake system that improved railroad safety. In the same year, he founded Westinghouse Air Brake Company.
It has dozens of stunning and remarkable contributions to the world. The most notable contributions include automatic air brake system, alternating current motor, world's first industrial AC system, hydro-electric generating plant.
The company started power generation back in 1914. To date, it is one of the most respected companies when it comes to making power stations, generators, pressure washers, and other lawn and garden tools. After recording 361 patents, sir George Westinghouse died in 1914.
Westinghouse Pressure Washer Reviews -2021
So far, the Westinghouse company has produced several models of the pressure washer. They are ranging from 1500 PSI to 3200 PSI. Among the dozens, we have taken 4 stunning performers. Two of these are gas-powered and rest two are electric. All of them are leading the market due to their top-notch performance and quality.
We have enlisted the gas two first followed by two electric washers. Read the review to pick the right power washer for your needs. Their quality and performance will stun you. All you need is to match the power washer with your needs. Happy reading!
Westinghouse WPX3200 Gas-Powered, 3200 PSI, 2.5 GPM
Westinghouse WPX3200 meets your every expectation but costs less than an electric power washer in its range. WPX3200 comes with a robust 212cc horizontal shaft 4-stroke OHV engine. The unit has the most durable and heavy-duty OHV engine in its class. No other gas washers in this range can outperform WPX3200.
This power hub can generate up to 3200 PSI max pressure with a flow rate of 2.5 GPM. These pressure and flow rate are ideal for heavy-duties like deep-cleaning of driveways, sidewalks, lawn, patios, garage floors, railings, exterior walls, and many more you name it.
Its fuel tank capacity is 1 Gallon! So, you will have several hours of cleaning before refilling. It comes with a 1/2 gallon soap tank that facilitates your cleaning and saves extra labor. It has a maintenance-free axial cam pump which belongs to the best pressure washer pump category. The pump ensures extra traffic boosting whereas requires zero maintenance!
To enhance durability, it has a tough steel frame construction. The plastic portions of the unit are robust and industrial standard. With its 25-foot high power hose, you have the freedom to reach out anywhere. The power hose is abrasion resistant and super-flex.
The most interesting feature of this power washer is its 12-inch never-flat wheels. The wheels offer top-notch maneuverability and an easy transportation facility. If you are looking for a power washer that has rated PSI 3000 and beyond, we strongly recommend you to buy this unit.
Product Specifications
Power Source: Gas
Maximum pressure: 3200 PSI
Traffic: 2.5  GPM
Weight: 63 lbs
Engine: Westinghouse 212cc
Material: Plastics and Tough Steel
High-pressure hose length: 25 ft
What We Liked
The giant 212cc 4-stroke OHV engine
Super powerful axial cam pump
The stunning 2.5 GPM traffic
Its durability, quality, and overall performance
5 Quick-Connect nozzles that come with the package
Very reasonable price
Comes with engine oil and a quick start guide!
Backed by a 3-year limited warranty!
What We Didn't Like
No noteworthy cons so far
Westinghouse WPX2700 Gas-Powered, 2700 PSI, 2.3 GPM
Westinghouse WPX2700 is another power giant because it has the same 212cc OHV engine! The only differences between WPX3200 and this unit are PSI and traffic. This unit has a rated pressure of 2700 PSI and a traffic flow of 2.3 GPM.
WPX2700 is an ideal power washer for homeowners and medium-scale businesses. The unit consumes less fuel compared to WPX3200. So, if your needs match with this 2700 PSI power washer, no need to buy the powerful 3200 PSI one. Furthermore, it has the same axial cam pump to boost the water flow rate. This one too offers maintenance-free pumping!
Westinghouse WPX2700 is a great deal and provides top quality for the price. Most of the branded electric power washers cost a higher price than this unit. Why an electric washer when you get a top brand gas washer within your budget?
It is a well-made and robust design power washer unit. The connections of the unit are metals instead of plastic. Even the high-power hose connector is made of industrial metal! It comes with a quick start and an assembly guide. But, you won't require that help to assemble the unit as it is super easy to assemble and use.
The only disadvantage of the unit is its hose is heat-sensitive. You have to keep the hose away from the engine. Do not forget to maintain a good water supply. Otherwise, you will end up over-heating the water pump. That will refrain the pump from getting an extended lifespan. The repeatedly over-heated pump will no longer be a maintenance-free pump!
Product Specifications
Power Source: Gas
Maximum pressure: 2700 PSI
Traffic: 2.3  GPM
Weight: 63 lbs
Engine: Westinghouse 212cc
Material: Plastics and Metals
High-pressure hose length: 25 ft
What We Liked
The giant 212cc 4-stroke OHV engine
Super powerful axial cam pump
Well made and superior design
Great deal for the price
Hardworking and good quality
Master for tackling light to medium duties
Very easy to assemble and use
Backed by a 3-year limited warranty!
What We Didn't Like
The power-hose is extra sensitive
The gas tank filter is flimsy
Cant handle heavy duties
Westinghouse ePX3000 Electric, 2030 PSI, 1.76 GPM
Electric pressure washers are meant for light to medium duties. Westinghouse ePX3000 can be a perfect pick for you if you need anything around 2000 PSI pressure. The unit can generate up to 2030 PSI pressure with a water flow rate of 1.76 GPM.
It comes with an anti-tipping design engineered for lowering the center of gravity. This a compact and lightweight power washer. It offers a super maneuver facility along with the lock-wheel features. It is only 16.5 inches tall that offers convenient storage provision.
The motor of the unit is built with a rugged carbon brush. As a result, the motor adds up extra power and durability. The power-hose of the unit is of nylon braided easy-coil featured. The hose, though shorter in length, offers easy movement facilities.
To increase your cleaning efficiency, the unit has an onboard detergent tank. With the help of the soap dispenser, you can easily clean your garage, floors, sidewalks, driveways, patios, and many more. Along with the dedicated soap nozzle, this power washer has another 3 quick connect nozzles.
To enhance the motor's lifespan, the unit has a total stop system (TSS). During idle-run and when the wand trigger not in use, the TSS automatically disengages the pump from the motor. As a result, the motor gets extra life and saves electricity.
Product Specifications
Power Source: Electric
Maximum pressure: 2030 PSI
Traffic: 1.76 GPM
Weight: 19 lbs
Motor: 13 Amp, 120 Volt
Material: Plastics and Metals
High-pressure hose length: 15 ft
What We Liked
Compact and lightweight construction
Anti-tipping design
The great water flow as an electric washer (1.76 GPM)
Performance and durability of the pump and motor
Pump automatic stop system that saves electricity
3-year limited service!
What We Didn't Like
The hose length (15 ft) could have been longer
Only for light to medium scale cleanings
Westinghouse ePX2000 Electric, 1500 PSI, 1.5 GPM
Westinghouse ePX2000 is the latest enrollment in the Westinghouse family. Keeping in mind the household chores and small-scale tasks, Westinghouse has introduced this little master. The unit is capable of cleaning almost every sector that a homeowner needs to look after.
Equipped with a 10 Amp smart motor, the unit can generate up to 1500 PSI pressure. Interestingly, the water flow rate of the unit is outstanding. Its pump can boost and offer a water flow rate of 1.5 GPM!
This super compact and lightweight power washer weighs only 15 pounds! Due to its lightweight and miniature construction (14-inch tall), it can be stored anywhere. Like ePX3000, this unit also engineered for the anti-tipping design that lowers the center of gravity.
ePX2000 comes with a smart foam cannon along with the soap tank. So, you will get a breeze spray out of the soap tank with the help of the foam cannon. This unit also has a TSS system that stops the pump when the trigger is released.
Product Specifications
Power Source: Electric
Maximum pressure: 1500 PSI
Traffic: 1.5  GPM
Weight: 15 lbs
Motor: 10 Amp, 120 Volt
Material: Plastics and Metals
High-pressure hose length: 15 ft
What We Liked
Super compact and lightweight construction
Anti-tipping design
The adjustable spray wand
The smart foam cannon
Pump automatic stop system that saves electricity
Great value for the price
3-year limited service!
What We Didn't Like
Meant for light duties only
Westinghouse Power Washer FAQs
Are Westinghouse pressure washers good?
Answer: Yes, so far so good. Westinghouse power washers have been leading the market since they ever made. Westinghouse has introduced pressure washers to maintain their class. Their products are well known and have a reputation around the world.
What is the best pressure washer for home use?
Answer: All four power washers on our list are suitable for tackling home tasks. You need to pick the right PSI for your right jobs. The WPX3200 can be used for professional purposes at the same time.
Is it safe to wash a car with a power washer?
Answer: Yes, it is safe but you need to be cautious about the power setting of the water flow. You need to use the right nozzles during your cleaning. If you fail to regulate the pressure or pick the right nozzles, you may end up damaging your nice car.
What PSI do you need to wash your house?
Answer: It depends on the surfaces and appliances you want to clean. For a car it is 700 PSI, for deck or exterior it is 1500 PSI, and for concrete surfaces, it is 3000 PSI. Do not forget to regulate the pressure of your power washer. Right nozzles and PSI are souls for producing the desired performance.
Where are Westinghouse power washers made?
Answer: Westinghouse is a USA-origin company. Most of their products are made in the USA. But, some accessories even whole products may come from China. You don't need to worry about that. Westinghouse does not comprise quality. Even the products they make from China, ensure top-notch quality. Westinghouse is aware of its brand value.
Conclusion
In this phase of our article, we are assuming that you are educated enough about the Westinghouse brand. Westinghouse pressure washer offers great value and quality. Surely, the Westinghouse power washer will surprise you with its performance and durability. When you take into account price and performance, no other brand of the market can beat a Westinghouse product. Happy buying!