When it comes to the pressure washer, aka the cleaning industry, Simpson is unbeatable and very popular for its performance. From consumer-grade to commercial-grade, their power washers stand out.
Almost every unit of SIMPSON looks and performs like a commercial-grade washer, whereas they can be a great tool for your residential tasks as well. Typically, they are much stronger and durable than 95% of the brands available in the market.
Yes, there are dozens of reasons that made Simpson lead the industry. But, all of their power washers are not equally great for every type of cleaning we do. So, you need to find the best one that fits your requirement.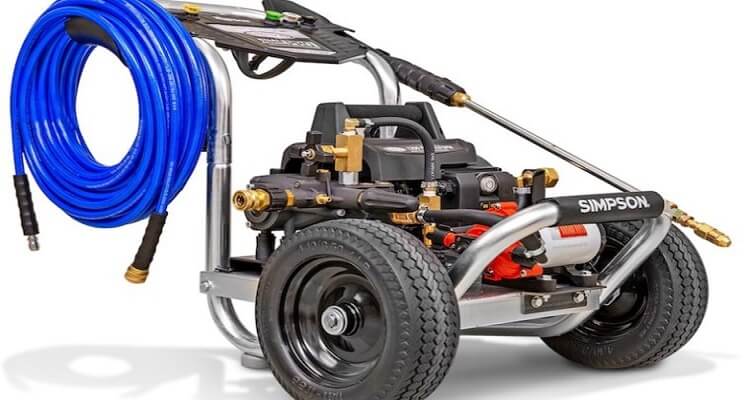 We have researched almost every unit produced by Simpson. We have brought you an in-depth Simpson pressure washer review with a detailed overview of each selected product.
If you're deliberating between buying a Simpson or another popular brand, Dewalt, please check out our comparison guide on the Dewalt vs Simpson pressure washer.
Keynotes About SIMPSON
For the last six decades, Simpson is one of the leading companies in cleaning solutions. Started in North America and now doing business almost all over the world.
However, the change started coming when FNA Group Inc. acquired Simpson cleaning in 2006.
The FNA group also acquires all the companies that provide Simpson cleaning power washer parts like OEM solutions, AAA Pumps, etc.
After joining the FNA group, they focused more on developing products and kept providing the best quality.
That's why they cover most of the USA's sales in both do-it-yourselfers and on the heavy-duty power washer.
They are mostly known for making gasoline-powered and heavy-duty cleaning power. Their product has a good reputation because of their regular client base and consistent improvement.
From the establishment to till date, user loves the design and performance of their products. Even most of the users have been using the Simpson power washer for years.
When the FNA group acquired Simpson, things started getting a lot better than the previous years.
Top-Selling SIMPSON Pressure Washers
Last update on 2023-08-18 / Affiliate links / Images from Amazon Product Advertising API
Simpson Pressure Washer Reviews
If we keep praising their cleaning solution, then it will be a damn long article. So, here are the top 7 Simpson pressure washer reviews you are looking for.
Simpson Cleaning MSH3125 MegaShot (3200 PSI, 2.5 GPM)
Let's be honest; if you are looking for a top-quality pressure washer for residential uses, then Simpson has a versatile model for you. The Simpson Cleaning MSH3125 MegaShot is the perfect option for you.
With the Honda GC190 premium engine's power, this power washer can do any big and small work easily.
Not just that, the water pressure is graded because of its performance at 3,200 PSI, and the water flow is rated as 2.4 GPM. It makes the unit very reliable.
The unit is extremely powerful and has the ability to clean the nastiest and dustiest things. That's why it can easily clean a car, which you drove roughly in the tough weather.
Also, many users are using it for cleaning their outdoor furniture, and it works great on it. It has interchangeable nozzles so that you can control the water speed.
It's designed for residential purposes, and that's why they designed it in a way where only one person can control it.
The power washer also has wheels in it, which assure its stability while cleaning and makes it easy to move wherever you want to clean.
The MSH3125 is a great model that comes with a Honda GC190 engine known for its fuel efficiency.
This fuel tank also retains half a gallon of gas, which performs around two hours. As it's a gas-powered model, it produces some noises.
The biggest drawback of this unit is it does not have a dedicated soap tank. Instead, it has a tube where you have to set your bottle of soap.
In the end, it's a great model within an affordable price range. It's super powerful, and it is made of steel, which makes it super durable. However, its powerfulness is its advantage and disadvantage too.
Pros
Steel made, and super durable
The powerful engine which helps to start in one pull
Low Gas & Fuel-consumption
Easy to move and Can be controlled by one person
Comes with a great warranty
Cons
No dedicated soap container attached
A bit noisy
Why should you get this?
With the reliability of the brand Simpson and incredible design and high performance, the MSH3125 is a leading model indeed. It's potent as Honda engine-powered and easy to start as well.
Also, it consumes less fuel and gas, and it's easily moveable by one person while cleaning. What else do you want? It's a perfect power washer for those who seek perfectionism.
Simpson Cleaning CM61083 Reviews (3400 PSI, 2.5 GPM)
Looking for a powerful heavy-duty yet easy to clean pressure washer under $350? If yes, then Simpson cleaning CM61083 is an ideal pick for you! Why? Let's find out over here!
The unit is well-known as a heavy-duty and easily assembled power washer. Setting it up is as easy as setting a residential power washer, but it performs more like a commercial pressure washer.
The pressure cleaner comes with a SIMPSON's OHV engine that provides power to its OEM technologies axial cam pump.
With the engine's power, this pump can provide 3400 PSI and a water flow of 2.5 GPM. For safety, it has a trigger lock mechanism in it.
As it's a gas power washer, it has a 0.7-gallon capacity of the fuel tank. The body of it is as durable as a steel-made frame should be.
Even with the commercial standard, it's easy to move. It weighs around 28.5 kg (63 lbs.), and it has two inflated wheels that make it easily moveable, and one person can control this while working.
The entire package includes a wand, spray gun, pressure hose, adjustable nozzle (0,15,40), and soap insertion features. Also, it has onboard storage to keep everything in it and keep it always ready for work.
Lastly, if you are looking for a rugged, compact package within a very affordable price range, then it's the best choice for you!
Don't forget to check the price because often, Simpson provides an offer/discount on this best gasoline pressure washer to make it budget-friendly.
Pros
Super Affordable
Powerful and well-performing engine
On-board storage
CARB compatible (allowed in all states including California)
Decent GPM in budget and Higher PSI
Cons
No soap container
It's a bit noisier
Why should you get this?
If you want a power washer that performs like a commercial-grade washer, then it's something you should get.
It's a full package that can solve all your cleaning problems. Also, it's safe to use, and it has high PSI and GPM as well.
SIMPSON Cleaning MS60763-S MegaShot (3100 PSI, 2.4 GPM)
Looking for a DIY pressure washer for your household tasks that can't be done by your regular hose pipe? If yes, then SIMPSON cleaning MS60763-S MegaShot is the best option for you.
Just like the MSH3125, it also has an OEM technology-based axial cam pump, which makes it maintenance-free and built with heavy-duty steel.
However, it has a Kohler RH265 engine, which is easily operatable. The MS60763-S MegaShot is rated for having 3100 PSI and 2.4 GPM, which roars like a Beast!
With the water flow of 2.4 GPM, it can easily clean any dirt that a standard hose pipe cannot. It also has an adjustable nozzle (0, 15,25,40, soap), making the speed easily changeable.
On the other hand, this washer has a great spray system with a safety lockage system for preventing accidents. The MSH3125 doesn't have a dedicated soap tank; instead, it has a soap applier nozzle where you have to add soap and set the nozzle.
It also comes with two 12-inch wheels that make it easily carriable anywhere. Also, it can be easily controlled by one person as it has a low weight.
It comes with different parts warranties like the engine has a 2-year warranty, accessories have three months warranty, and the body frame has five years of warranty.
In the end, if you are looking for something powerful with residential grade within an affordable budget, then it's an excellent option for you.
Pros
Durable as it is made of welded steel.
Powerful OHV engine
OEM axial, which is 100% maintenance-free.
Available within a reasonable price range.
Warranty available
Cons
Not acceptable for industrial or commercial uses.
Some buyers got defective items, as reported.
Why should you get this?
The MS60763-S MegaShot is the best power washer for regular use. With the power of Kohlar RH265, it provides 3100 PSI and 2.4 GPM and a cleaning unit of 7400 units.
If you are looking for a powerful pressure washer for household works within a reasonable price, then it's recommended to you.
SIMPSON Cleaning CM60912 Reviews (2400 PSI, 2 GPM)
So, here is the review of a power washer, which is solely made for moderate tasks. It is the least powerful pressure washer in our review section. Still, it can be the best one for you! How? Read below!
Well, it's nothing like a beast. It's a gentle power washer that has all features a moderate user needs.
It's not very powerful, but it's enough for your household tasks, and that's why it's a popular model of SIMPSON. The unit is durable because of its steel-made body.
It performs up to 2400 PSI and flows up to 2 GPM, which is more than enough for cleaning anything. The washer has a 149cc SIMPSON OHV engine and a fuel tank that has 0.24 gallons of capacity.
It also has OEM technologies axial cam pump in it. The spray gun is mostly known for providing comfort and control at the same time. It also has an adjustable nozzle with three modes (0, 25 degrees, and soap).
The best thing about the CM60912 is, it has a dedicated detergent/soap tank. Whenever you set the nozzle at soap mode, in a 7:1 ratio, it'll automatically include detergent in the water.
Another thing, you can keep it in minimal space. It's lightweight and easy to carry, and stable because of its 6″ wheels.
There is an on-board storage system available in it that will help you keep everything at a place so that you don't have to waste time during cleaning.
When it comes to safety, it has a trigger lockage system and thermal relief tap, which will prevent accidents and damage internally.
In the end, if you are looking for something reliable, perform gently within an affordable price range, then it's the best option for you.
Pros
On-board dedicated soap tank
On-board storage for accessories
Safety lockage that prevents unwanted accidents
CARB certification makes it available all over America
Consumes less space as it is relatively small in size
Cons
Low PSI and GPM
Not preferable for heavy uses
Why should you get this?
It is the least powerful and comes with fewer features, then why should you buy this? Well, it's a pressure washer that has almost ZERO maintenance costs; it's lightweight and can be kept in a small place.
It's ideal for those who are looking for something least powerful but comfortably usable at an affordable price. Also, it's a perfect option for beginners as well!
SIMPSON Aluminum ALH3425  (3600 PSI, 2.5 GPM)
Looking for a power washer that performs as powerful as a commercial/industrial grade washer? If it's your requirement, then SIMPSON cleaning ALH3425 is the perfect choice for you. How?
The SIMPSON cleaning ALH3425 is the most powerful pressure washer we are reviewing today. It has a leading, powerful, and high-performance Honda GX200 4-stroke engine that provides 3600 PSI and a water flow of 2.5 GPM.
It has an incredible CU score of 9000, which shows how powerful it is! This engine also has advanced features oil alert which keeps your engine safe in low oil conditions. This Honda GX200 engine comes with an incredible 3-year warranty!
We all know the demand for AAA industrial grade pump, right? The AAA graded pumps are many professionals' first choice.
That's why the unit has the triplex plunger pump, which has AAA industrial-grade standards. Also, this ceramic pump has PowerBoost technology that keeps giving a top-notch performance for years.
This giant pump comes with a straight 5-year warranty! As it almost fills all the commercial-grade power washer requirements, it should be quite heavy.
That way, to keep the weight lower and give it a fabulous look, the manufacturer SIMPSON has used an aircraft-grade aluminum frame, which makes it lighter in weight. This aluminum-made body frame has ten years of warranty!
It can be easily used for easy to hard work (such as: removing dirt from items or heavy tasks like cleaning industrial equipment.
Finally, if you need a very durable and high-performing pressure cleaner that performs like a commercial cleaner within budget, then it's the best one we can suggest to you!
Pros
Powerful engine with a premium level feel
Super effective and efficient
Durable, attractive, and lightweight
On-board storage helps to organize everything in one place
Extended warranty available
Cons
Low GPM (if we consider the price)
No dedicated soap container
Why should you get this?
A Honda GX200 4-stroke engine, AAA industrial-grade ceramic pump with PowerBoost technology provides 9000 cleaning units and the entire package within an affordable price range with extended warranty plans.
Sounds lucrative, right? It's a perfect choice for those who want to get a taste of an industrial power washer within budget.
Simpson Cleaning MS61033-S Reviews (3300 PSI, 2.4 GPM)
If you search for a perfect, durable, and long-lasting pressure washer for your house, then we have something exclusive for you. It is the Simpson Cleaning MS61033-S, which has all these qualities you are in the hunt for.
Like all Simpson's premium models, the Simpson Cleaning MS61033-S also comes with a Honda GC190 engine, which starts very smoothly and efficiently operatable too.
This powerful Honda engine helps the axile cam pump deliver up to 3300 PSI and 2.4 GPM that can easily clean any stubborn dirt.
The washer comes with a 25 ft. high-pressure hose pipe and M22 connectors. The hose is twisting and scratch-resistant, and it's highly flexible.
It also has a standard set of nozzles (0, 15,25, 40) so that you can easily adjust the speed according to your need. Also, there is a nozzle for the soap bottle that you must set.
We found it can clean almost everything like driveway, muddy cars, surfaces on concrete, or stone in our trial. That's why we can assure you that it can easily handle tough to challenging tasks for residential purposes.
The thing we like the most about it is its flexibility. A person can easily handle this, and it has two ten-inches tires in it, making it easy to move while washing. It's strongly built with welded steel, and to avoid rust, it's also powder coated at the end.
We didn't like its handle sit which is in a lower position, so you have to bend down to reach it. The advantage is that the washer takes less space and makes you sit comfortably in your house.
The unit comes with a warranty as well. The Simpson provides two years engine warranty, a 1-year pump, 90 days accessories, and five years warranty for the frame.
Pros
Easily moveable while washing
High PSI and GPM for residential purposes
Works faster as a professional power washer
Available within a fair price range
Comes with a powerful engine
Cons
The handle isn't comfortable to use.
Why should you buy this?
The Simpson Cleaning MS61033-S is one of the premium all-in-one packages that you should not miss! It has everything that a premium residential grade pressure washer should have.
From the Honda engine to high PSI and GPM, it has everything you need. It's a perfect choice for those who want to use a premium power washer for household works and to use it in the long run!
Simpson Cleaning CM61081 Reviews (2800 PSI, 2.3 GPM)
We all are not blessed with a reasonable budget; does it mean we can't get the best power washer within a decent budget?
In that case, Simpson cleaning solution understands you, and that's why it has invented the Simpson cleaning CM61081.
This unit is a decent yet powerful pressure washer. It has a 159CC Simpson OHV engine that is powerful enough to clean your household or outdoor.
The 159CC OHV engine helps its axial cam pump provide around 2800 PSI and a flow of up to 2.3 GPM, making it efficient.
However, it's a gasoline-powered washer with a pull-to-start mechanism with a fuel tank with a maximum storage capacity of 0.3 gallons. To assure the safety of the washer, it has a trigger lock mechanism that helps prevent accidents.
When it comes to physical appearance, it is made of sturdy steel pipe-made frames, making it relatively lightweight. The help of two 8″ wheels and a handlebar make moving while washing much more comfortable.
With Simpson CM61081, you will get numerous accessories like a spray gun, a pressure hose, and a wand. The power washer also offers adjustable nozzles.
There is also a nozzle for a bottle of soap/detergent. It will attach the soap in a 7:1 ratio (seven gallons water with one-gallon soap).
The unit is CARB-approved. It is allowed in all 50 states, even in California too. That's why, if you are looking for a pressure washer for gentle performance, then it's a perfect pick for you!
Pros
Decent Pricing comparing to other competitors
Provides best PSI, GPM, and CU in budget
Security features available to prevent unwanted accidents.
CARB approved
Durable as it is made of steel
Cons
No soap container
No electric start
Why should you buy this?
If you are looking for a powerful washer that provides high PSI and GPM within your tight budget, then this is something you should not miss.
Moreover, it seems durable, performs like a beast, and it has modern security systems too. This is something someone who has a strict budget should get today!
Simpson Pressure Washer Buying Guide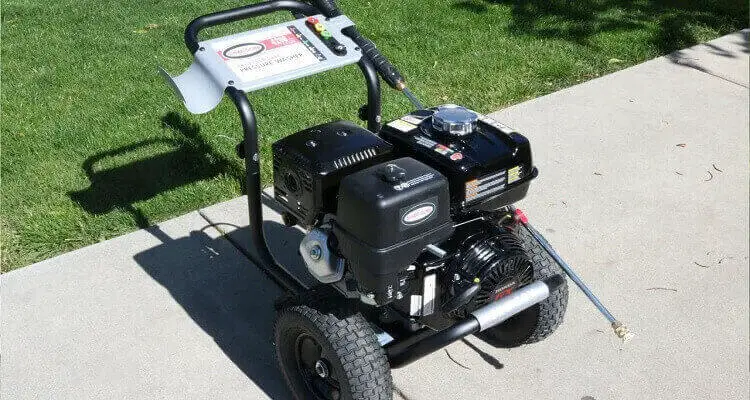 Buying a pressure washer can be a bit tricky. As you will use it for a few years if it's not a good one, it will be a big waste.
That's why, just to make sure you don't waste your money and make a wiser decision, we are giving you a useful buying guide, which will help you decide which one you should get.
There are some key factors that will help you to find the best one for you. Which are-
Type of Simpson Power Washer
Simpson power washer is available in two types. Which are-
Electric Pressure Washers
Gas Pressure washers
Electric pressure washers are perfect if you want to focus on smaller tasks. These are quieter and produce almost no sound. It's also lightweight.
However, these are not portable, and mostly these are not powerful. If you are using it for smaller tasks like cleaning the backyard or terrace's furniture, siding, or vehicle, then you can go for it.
On the other side, Gas power washers are great, powerful, portable, which makes it able to handle big and tough works like cleaning floors, the stubborn surface of concrete, exterior siding of your house, etc.
Using a gas pressure washer isn't as easy as using an electric pressure washer! Some power washer has a pull-in start, which means you must keep pulling it until the engine gets started.
Also, there is some washer available which has an electric starter feature. However, this engine needs regular maintenance to avoid breakdowns.
Simpson uses the powerful HONDA Engine, and for a better cleaning experience within no time, you should choose Simpson gas pressure washers for portability and better performance.
PSI GPM and calculated CU
PSI, GPM, and CU are the three most considerable terms when choosing a power washer. The power decides what sort of tasks can be done by this.
With PSI it means, Pressure per square inch. A medium-range power washer can have 2800 PSI.
GPM means gallons per minute. A medium-range pressure washer can have 2.3 GPM.
CU is the multiply result of PSI and GPM. CU means cleaning the unit. The CU of a middle-range power washer is PSI x GPM= CU, following that, 2800 x 2.3= 6400 unit.
So, the cleaning unit is 6400. The higher the CU is, the faster it cleans more areas in a short time.
Choose a Pressure Washer Based on the Task
With the PSI and GPM, we have divided the pressure washers into four different sections. Such as-
For light and small works–
1300-1900 PSI and 3 GPM. These machines can do small tasks. Most of the electric pressure washers are available with this requirement. These are termed as small pressure washers.
However, these aren't that powerful, and it's not recommended if you have any more significant tasks to handle!
For the medium level of works–
2000-2800 PSI and 2-3 GPM. We've reviewed one within this power range. These are good for handling your household and shop cleaning works.
However, these are perfect for small and regular usages, but for significant or professional works like cleaning a surface on concrete, siding, etc., it's not recommended!
For professional works-
Professional works like graffiti removal, extensive cleaning, industrial cleaning, siding, etc. commercial-grade power washers are recommended.
2800- 3600 with 2.5-4 GPM are ideal for performing big tasks. However, these are not only for commercial tasks. You can use these for household purposes as well.
Cold vs. Hot Water Pressure washer
Cold-water pressure washer
These are less expensive and perfect for DIYers and household works. The cold-water power washer is best for losing paint, cleaning cars, and performing all the household works.
Hot-water pressure washer
These are ideal for industrial uses. These are expensive but work faster than a cold-water pressure washer, and it's difficult to control.
Overall, for household purposes, a cold-water power washer is recommended.
Engine
Before investing in a power washer, consider the engine. Check the engine's CC. If you have a good budget, then choose washers with a Honda engine.
These are powerful, comes with a long-time warranty, and one-start performance will make it a hassle-free experience.
Pump
Simpson comes with two sorts of pumps. One is an Axial Pump, and another one is a triplex pump.
Power washers with axial pumps are the best option for the homeowner. It has OEM technology that makes it maintenance-free.
On the other hand, triplex pumps are mostly used in commercial and industrial pressure washers. It's super-efficient and has a long life.
On-board detergent tank or soap bottle nozzle
Sadly, most of the best Simpson power washer doesn't come with an onboard detergent tank.
However, almost all the Simpson power washers (that don't have an on-board detergent tank) have a tube where you have to attach a soap bottle. In these washers, they use one gallon of soap and seven gallons of water.
Build
Well, all the Simpson cleaners are made with welded steel and have thermal relief. The washer's body is also powder-coated, which helps from corrosion.
So, yes, when it comes to building, choose the washers made with steel and have thermal relief.
Warranty
Simpson power washer has a different warranty module. They don't provide a full pressure washer warranty.
Instead, they offer different times to other parts. Like for engine three years, for body one years, for accessories 60 days, etc.
Accessories
Before getting a pressure washer, check what accessories you are getting. Basically, Simpson provides accessories like a hosepipe, wand, etc. You may have to pay more to get these accessories.
Nozzles
The pressure washers of Simpson have adjustable nozzles that will help you to adjust the water pressure. Nozzles of Simpson power washer has five adjustable settings, which are-
0 degrees – this is the most powerful setting. It can cut anything with water speed. That's why most of the professional doesn't recommend you use this.
15 degrees: As 0 degrees is not recommendable, most people use it at 15 degrees for heavy cleaning.
25 degrees: This is used for normal cleaning.
40 degrees – This is for cleaning regular items like furniture, vehicle which require low water pressure. To avoid damaging your valuable car or other items, this is highly recommended.
65 Degrees (soap)– In this setting, it provides soapy water in a 7:1 ratio.
Before getting a washer, make sure it has all five nozzles, which will make your cleaning experience easier. Also, make sure you adjust the water pressure wisely; otherwise, you'll end up damaging your items.
So, these are the consideration you have to keep in your mind before choosing a Simpson power washer.
Simpson Pressure Washer FAQs
What sort of oil should I use for the Simpson Pressure washer?
You should use the pump crankcase oil by Simpson. It's a premium oil that improves the pump performance and keeps all the components fit.
Can I buy a Simpson power washer online?
Indeed, you can! You'll get it on various e-Commerce sites.
What should I consider more GPM or PSI?
Both, because you need to have both to have a higher cleaning unit. A 3000 PSI and 2 GPM isn't more powerful than a 2500 PSI and 3 GPM power washers. Instead, the second one holds 50% more power than the first one does!
Can I use bleach in a pressure washer?
No, you can't. It will damage your pressure washer. Only use approved cleaning solutions for power washers.
What is an OHV engine?
OHV means an overhead valve. Its Simpson's own engine designed for pressure washers only.
If you have any more questions in your mind, please drop a line below!
Conclusion
So, these are the reviews of the seven best Simpson power washers in our suggestion and a useful buying guide for you!
Simpson is a well-known brand in the cleaning industry for the last six decades, and day by day, they are modernizing their products. That is why, when it comes to a pressure washer, Simpson is a brand that you can't ignore.
We hope that this article on "Simpson pressure washer reviews" was helpful for you to pick the right one.