Having trouble cleaning the higher walls or remote corners of your house? Well, getting the best pressure washer extension wand attached to your power washer can be the ideal solution in this situation.
A pressure washer may serve your household cleaning purpose quite well. But, when it comes to cleaning the roof or walls of your two or three-storied home, you need something to reach that height.
Although a simple tool, it reaches a great distance and effectively cleans your gutter, walls, or whatever it is you are cleaning.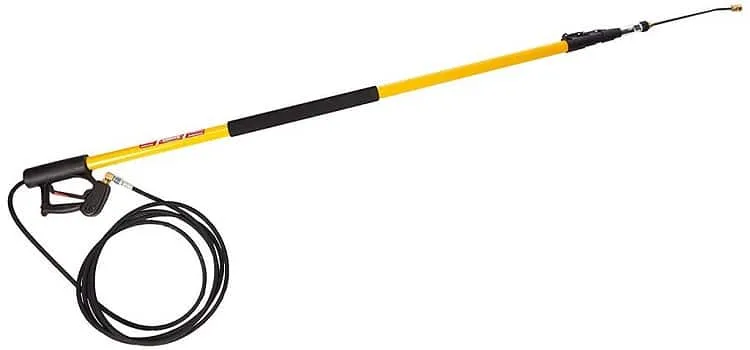 However, selecting the one which effectively meets your cleaning needs is not one of the most straightforward jobs. We have done extensive research and listed the best extension wands on the market.
Have a minute and learn about each one's specific qualities and what you should consider before buying one.
Why Do You Need Extension Wands for Pressure Washer?
Before discussing the importance of an extension wand, think about it; can you reach the hidden annoying spots and higher walls with a power washer only?
The answer is no. While a pressure washer is a simple and effective home cleaning appliance, it can't help much reach heights. And you probably have to climb a ladder most of the time with a high risk of falling from it.
The pressure washer extension wand, a straightforward tool, can put an end to your ladder use. Simply attach it with your power washer and enjoy superior cleaning. In our guide discussing "What Size Pressure Washer for 2 Story House?", we also highlighted how a pressure washer extension wand can help you do a more thorough cleaning of a 2 story house.
The benefits of using the right extension wand are endless. You can use it to clean windows, surfaces up to the third-story, and roof while putting your feet on the floor.
It helps in effectively cleaning your gutters from the ground, standing at a distance. Last but not least, you can say goodbye to the ladders!
Best Pressure Washer Extension Wand Reviews
Once you have decided to get an extension wand, you will see an overwhelming number of options out there in the market. Each one has its unique features. So, how do you choose the best fit?
Well, start by learning about the best ones. We are presenting you reviews of the 10 best pressure washer extension wands. Let's get into it:
Briggs & Stratton 6206 Extension Wand (3000 PSI)
Have you ever fallen off the ladder while washing higher walls beyond your reach? You are lucky if that didn't happen to you.
Nevertheless, there is a higher chance of falling if you keep washing harder-to-reach walls by climbing a ladder.
Briggs & Stratton Extension Wand saves you from all kinds of ladder accidents. With its nine feet length, it can reach almost anywhere in your house.
The plus point is, the nine feet length comes in three pieces. So, if you want to reach the most remote corners, you can connect all three elements.
If you don't require the nine-foot length, attach two parts to get the height you want. Besides, they come with quick connect fittings for easy and quick attachment of spray tips.
Moreover, it connects to most M22 gun fittings and can sustain water flow at a pressure of 3000 PSI. So you can keep the power washer running at its maximum without worrying about the wand.
However, handling the nine-foot-long wand is a bit difficult. We recommend you be careful and make sure you have the strength to take the whole equipment.
If you know how to handle it, it will become your best cleaning companion.
Pros
Three attachable parts help you reach different heights.
Easily connects with a power washer
Offers effortless assembly of the three parts
Makes sure that you never have to climb a ladder
Cons
Requires great hand and shoulder strength
Why should you get this?
Well, because it comes from a renowned brand, Briggs & Straton, it is a reliable choice.
With three connecting pieces, each one three feet in length, you will be able to reach multiple heights from the ground. So, get the Briggs & Straton 6206, and say goodbye to your ladders.
B E 85.206.424L Pressure Telescoping Wand (4000 PSI)
To eliminate the use of a ladder, you bought a pressure washer extension wand. Now, if the wand is too heavy to operate, you might end up being more disappointed.
Well, cheer up; B E has brought you the most amazing lightweight wand.
With only 15 pounds, the telescoping wand is extendable in the range of 7 -24 feet. So with this wand, there won't be any areas beyond your reach.
On top of that, it is fiberglass made that offers excellent maneuverability while working. However, in the beginning, you might face difficulty holding the wand.
The exciting feature of the product is, you get an outflow rate of 8 GPM water at a pressure of 4000 PSI.
If handling the vast pressure, despite weighing very little, was not enough, the telescoping wand can tolerate a maximum of 200°F water temperature.
So, clean your gutters and walls after a snowstorm with high pressure and high-temperature water.
Moreover, the telescoping wand comes with a lever lock. The inlet and outlet sockets are easy to connect. Nevertheless, make sure it fits into your washer.
Pros
Made of fiberglass and weighs very little
Can handle maximum pressure of 4000 PSI
Can work with hot water up to 200°F temperature
Lever lock allows you to reach your desired height with ease
Cons
Difficult to handle initially
High chance of being exposed to some contaminated chemicals
Why should you get this?
The telescopic wand is a fantastic product by B E. It has all sorts of unique features, which makes it worth your money.
The B E extension wand makes sure you can clean anything and everything at any height! The best thing is you can hold the wand easily when it is extended up to its full length.
What more do you want?
AR North America Fiberglass Telescoping Lance (4000 PSI)
Cleaning is a challenging task. How can you make it easier? Well, get the AR North America Fiberglass Telescoping wand attached to your power washer and see the difference yourself.
It is compatible with most power washers. With its ⅜ inches M22 inlet and ¼ inch quick connection outlet, it will pair up with any pressure washer quite well.
Moreover, one can reach a height of 6 -24 feet, making it perfect for near and distant cleaning.
Not just that, the wand can withstand a maximum pressure of 4000 PSI, delivering water at 7 GPM.
If you are worried about how you can handle long distant cleaning when fully extended, you will be glad to hear that the body is fiberglass made. It weighs only nine pounds and is one of the lightest ones you can find on the list.
However, to give you more support, the product offers a separately sold nylon waist belt. The waist belts can smoothly go from 18″ to 58″, making them suitable for everyone to use.
We also love the fact that you can buy a separate gutter cleaner along with the product. It perfectly fits the lance and is very helpful in cleaning your gutters.
Pros
Efficient and powerful cleaning tool
Made of fiberglass and weighs only nine pounds
Easy assembly and easily extendable
Gutter cleaner and nylon belt sold separately
Cons
Why should you get this?
With an additional waist belt and gutter cleaner, the AR product is perfect for your superior cleaning. However, you have to buy them separately.
Be it the driveway, roof, window, three-storied house walls, gutters, the telescopic lance can clean it all.
Twinkle Star Commercial Grade Extension Wand (4000PSI)
It's just not a wand; the Twinkle Star Commercial Grade Pressure Washer Wand is a complete package.
The telescoping pressure washer wand is easily extendable from 6 – 18 feet and is compatible with pressure washers of up to 4000 PSI.
The whole body is stainless steel made, which provides excellent durability. The robust structure makes it efficient in withstanding such colossal pressure.
The thing we love most about the product is that it has a support harness. It saves you from all the neck and back strain while holding a long wand under tremendous pressure.
The package also includes a 20 inches gutter cleaner for effortless gutter washing only. With ¼ inches, stainless steel outlet fitting, and ¼ inches brass coupler, the extension gutter's connection is easy and quick.
Washing, car, fence, roof, windows, driveway is not the same. With this aim, the extension wand comes with four different angle soap nozzles. So reach any height and any angles you want with this amazing product.
However, the major drawback is assembling the product for the first time and connecting it to the power washer. But, once installed correctly, you can surely use it for a very long time.
Pros
Strong-built with stainless steel
Has five spray tips and different angle soap nozzles
Extendable to reach a great height
Comes with a back support harness
Cons
Controlling the wand is a bit difficult.
Why should you get this?
The stiff and heavily built wand, along with its support harness, is one of the best in effectively performing your outdoor cleaning.
You can clean the driveway, gutters, walls, roof, and almost anything you want, standing firmly on the floor. Feels powerful, right? Indeed, wearing the harness gives you more control and power.
Tool Daily Pressure Washer Extension Wand (4000 PSI)
While telescoping extension wands are very helpful in reaching distant heights, they don't provide much flexibility. Most of them are not very durable.
How about a durable, strong-built wand that allows you to adjust the height according to your needs? Let us introduce you to the Tool Daily Extension Wand, with all these qualities.
The first thing to mention about the Tool Daily product is that it has six wands; each part's length is 15 inches. So, you get a total of 90 inches in length. You can connect the elements one by one to reach the desired height.
The product is equally useful for indoor and outdoor cleaning. The spray lance acts like a spray gun extension.
With quickly connecting joints, you can easily connect nozzles, brushes, water broom, gutter cleaner and clean your driveway, backyard, pool, car, and almost anything with it!
Looking at the six parts and all the washers and connectors, you might wonder if the assembly is a hassle or not. Well, believe us when we say yes, it's super easy.
It connects to the washer by an M22 thread connector with no difficulties at all. The fittings are made of brass, and the body is stainless steel made. The material allows it to stand up to a pressure of 4000 PSI.
With all these unique qualities, the product saves you from all the trouble you face while cleaning.
Pros
The stainless steel body is strong and sturdy
Six connecting pieces allow high flexibility
Quick and effortless connections with male-female threads
Lasts long
Cons
Brass fittings are not that sturdy
Why should you get this?
What is better than a durable wand that gives you ample flexibility in adjusting height, connects to a variety of cleaning equipment, and also easy to connect?
Tool daily gives you all these facilities. It simplifies your cleaning job to a great extent. If you want something handy yet able to withstand tremendous pressure, this is the right choice for you.
Agiiman Power Washer Extension Wand (4000 PSI)
When it comes to cleaning the gutter, there's always someplace that's beyond reach and often left dirty.
With the Agiiman Pressure Washer, you can get to any narrow corner. It offers an angled pivot coupler that can rotate at five different angles. So, cleaning your car in and out is no big deal.
If you want to use soap and hot water to wash the gutters and your car, the Agiiman has a soap nozzle for that. It is also functional at a temperature of 140℉.
The wand's material is brass and stainless steel, making it tolerant to a maximum pressure of 4000PSI. The stainless steel also keeps the wand out of rust.
The threaded extension wand comes in six 15 inches long parts and two 7.5 inches curved ones. When fully extended, you get a total length of 120 inches.
Two curved wands, one 45 degrees, and another 100 degrees are extremely helpful in reaching dead zones.
Moreover, the brass fittings are easy to connect and replace. Connect up to the height you want to attain. Ten O rings prevent leakage in every connection.
To prevent the wand from slipping down your hand, it has an additional extension featuring a comfortable non-slip grip.
Pros
The six spray nozzles come in different colors for easy identification
Ensures zero leakage
Comfortable to hold with the grip
Can be used for almost all cleaning purposes
Cons
Can flex a bit when fully extended.
Why should you get this?
If the dirty gutters irritate you, the above product is more than helpful. However, the product offers more than just gutter cleaning.
With six straight rods, two curved rods, one soap nozzle, five different angle nozzles, and ten anti-leak rings, it can wash almost anything and everything.
EDOU 20′ Telescoping High-Pressure Wand (4000 PSI)
Despite having the best wand, you might face some common problems. These include back strain while working, difficulty reaching dead angles, and maintenance.
How about a wand with no drawbacks at all? The professional-grade EDOU 20′ Telescoping Wand offers ample facilities with zero difficulties in assembling. Let's look into the features.
The firm wand is extendable to reach any height from 6 – 20 feet. You can easily get to the second or third-floor roofs with your feet on the floor.
The premium quality wand is made of aluminum, sturdy yet lightweight. The unique thing about the structure is its thick aluminum pipes.
It improves the wand's stability and plays a significant role in handling pressure from 1000 PSI to 4000 PSI.
With a fully sealed spray gun, a bend U-shaped, and another 15 degrees extension wand along with five different angle nozzles, pivoting coupler, and gutter cleaner attachment, the wand is a powerhouse cleaning tool.
And it doesn't end here. It also includes a superior quality support harness to save you from neck and back strain. So a day-long cleaning with this tool is not tiring at all!
Did we mention its durability? The excellently durable wand also promises maintenance-free use over its self-life.
Pros
Excellent customer service
Superior quality and design
Universal with any power washer type
Different angle nozzles and quick connectors
Cons
Uneconimal for home use only.
Why should you get this?
The EDOU 20′ telescopic extension wand is one of the most potent cleaning appliances on the list. The product completely eliminates the need for a ladder and supports your back with a great belt.
If you need loads of cleaning around your house and outdoor, then this is the right tool to get.
AgiiMan Gutter Cleaner Telescoping Extension Wand (4000 PSI)
Being able to clean the gutters standing at a distance always helps. You don't get soaked and don't have to look at the dirty sight while cleaning.
The Agiiman specializes in giving you the best gutter cleaning tool. The 18 feet long wand enables you to wash gutters from the ground and keep them fully functional. Besides, the ergonomic grip makes it easy to handle.
The five-section tool includes a bent extension and a 13 degrees extension wand. It's not only efficient in gutter cleaning but also effectively cleans pavements and roofs.
Moreover, it has five different angle nozzle tips; 0°, 15°, 25°, and 60°. This makes the wand suitable to use for various purposes.
When buying the extension wand, it's reasonable to wonder whether you can assemble it quickly or not. Agiiman makes sure that you can connect quickly and effortlessly.
Finally, the product is firmly built with aluminum, stainless steel, fiberglass, and brass. Weighing less than 6 pounds, it can withstand a pressure of 4000 PSI, a temperature of 180°F while ensuring a flow rate of 8 GPM!
Pros
Comes with quick connectors
Comfortable to hold while operating
Specialized gutter cleaning tool
Can be used for multi-purposes
Cons
Maintaining a directional flow is sometimes a struggle.
Why should you get this?
The Agiiman is known for providing quality customer service along with their fantastic product. The reliability of the brand makes the product worth your money.
The multi-purpose wand goes beyond meeting your needs in almost every situation.
Twinkle Star Power Washer Extension Set (4000 PSI)
Another Twinkle Star product made it to our best pressure washer extension wand list. It includes a whole set of tools, which makes it useful for cleaning anything and everything. Additionally, you can use it for gardening too!
Let's elaborate on all the parts of it. It has six pieces of extensions, each of which is 15 inches in length and a curved wand of about 5.9 inches. If you connect all the parts, a total height of about 8 feet can be reached.
The additional curved wand is very helpful in reaching some of the dead-angle corners of your house.
The best thing about the Twinkle Star wand is that it has five nozzles, each with a different angle. With different angle nozzles and curved wands, the product ensures you leave not an inch dirty!
Moreover, you can use it for other purposes like watering your flower pots in the backyard.
Now, the question is, is it easy to connect? Yes! The ¼ inch male, female connectors ensure quick connections to the power washer gun and nozzle tip.
Last but not least, the product has a whole stainless steel body with brass connectors. So, it's strong and durable too!
Pros
Stainless steel body makes it sturdy
Comes with six replaceable wands and one curved wand
Multi-purpose cleaning tool
Excellent Customer service
Cons
Hard to handle when all the parts are connected
Why should you get this?
Coming from a reliable brand Twinkle Stars, the product has all the fantastic features. Compatible with all kinds of pressure washers, it can sustain a pressure of 4000 PSI.
The multiple wand set and nozzle tips meet all your cleaning needs and offer more than just washing.
M MINGLE Pressure Washer Replacement Wand (4000 PSI)
If you are looking for a threaded expansion wand that is both durable and easy to connect, the M MINGLE Pressure Washer Replacement Wand offers both. The stainless steel wand provides excellent durability. The plus point is the threads are stainless steel too!
The ¼ inch connectors easily attach with water broom, nozzle, spray gun, undercarriage cleaner, and more. You can connect it with anything to match your cleaning needs.
Moreover, the six replaceable pieces help you to adjust the length. You can extend it up to 90 inches, each part being 15 inches in length.
And they are easily connectable too. With threaded joints, you won't face much difficulty in assembling them and get full extension.
The firm configuration enables it to tolerate a water pressure of 4000 PSI. The replaceable O rings prevent any kinds of leakages.
However, handling the wand for the first time can be a bit challenging. Don't worry; you will get used to it fast.
One thing to keep in mind while using it at the beginning, you shouldn't connect it with gutter attachments and angle adapters.
Pros
Robust configuration with stainless steel body and threads
Ensures no leakage
Affordable
Ideal home cleaning equipment
Cons
Why should you get this?
The quality wand is often overlooked as not coming from a renowned brand. Nevertheless, the product is just as good as others and also cheaper than mosts.
We also love no leaks, which means you get your power washer's maximum pressure.
And on top of that, the wand is universal, meaning it is compatible with any power washer.
Best Pressure Washer Extension Wand Buying Guide
Nowadays, a pressure washer is a must-have home appliance for your cleaning purposes. But, it may not be sufficient for cleaning every corner and wall.
So, what more can you get? Simply attach an extension wand to your washer and see the difference!
However, there are some factors to consider while buying one. Let's have a look at them.
Weight of the Wand
Weight is the first thing to check before selecting the right wand. Why? Because you will be holding the wand above your head for a prolonged time.
An overweight wand is tiring to use and can even cause your back and hand to hurt. Therefore, make sure to select the one you can easily maneuver.
The material of the Wand
The wand's material is another important consideration while buying one. Several features depend on the material type.
For instance, a fiberglass telescoping wand is lightweight but tends to flex in full extension. Again a stainless steel or aluminum one can be a bit heavy but lasts long.
So, the right material confides in your cleaning need. If you use hot water and loads of soap, stainless steel is good to go.
Want something cheaper? An aluminum wand is good enough.
Type of Wand
Knowing the types of expansion wand will help you figure out which one is right for you. The extension wands are of the following types-
The threaded wand comes in several pieces that require screwing together part by part. While they are inconvenient sometimes, reaching the right height and hard-to-reach areas make up for it.
Telescoping extension wand
They are most suitable for both commercial and residential purposes. The user-friendly telescopic wands are cheaper, lighter, easy to handle.
Fiberglass extension wand
The fiberglass extension wands are best suited for residential use because they are affordable and weigh less. The easy maneuverability makes it popular among homeowners.
They are heavy, strong-built commercial-grade extension wands. For its strong configuration, it can withstand high pressure and temperature.
Right tip of the Wand
Choosing the wand with the right tip is essential. There are two options you can choose from- an adjustable nozzle or a quick connector.
A quick connector helps you change the spray pattern regularly, whereas an adjustable nozzle enables you to adjust the spray angle.
How to Attach and Use a Pressure Washer Extension Wand?
Most people think assembling the extension wand and connecting it to the power washer is a hassle.
Let us assure you; it's pretty simple. The very first thing you can do is attach the wand to the power washer's hose. Place your washer nearby and check for connection.
Once the connection to the washer is made, connect the spray nozzle to the extension wand. If it is a telescopic wand, extend it up to your need.
However, if you have a threaded one, attach as many parts you want, one by one. After you have achieved the required length, adding a harness to the end is the next thing. The additional harness provides stability.
When everything is in place, turn the water on. For extra safety, make sure to wear a support harness and maintain a minimum distance from whatever you are cleaning.
And that's all!
Power Washer Extension Wand FAQs
What is the right pressure washer extension wand for you?
Selecting the right extension wand depends on your cleaning needs. There are various types of extension wand, having a wide range of facilities.
Some of them are compatible with most washers, can withstand high pressure and temperature, and offer multiple nozzles. Some are multi-functional, while others are for a specific task.
If you need something handy and easy to handle, a fiberglass telescopic wand is the best fit. However, if you need something durable and multi-purpose, a threaded wand is the right choice.
It's all about which feature you want and which wand fits your power washer. Most people don't feel they need an extension wand. However, it can be extremely helpful to meet your variety of cleaning demands.
Are all pressure washer extension wands universal?
Every extension wand doesn't fit every type of power washer. There are specific guidelines with the wand about its compatibility with various power washers.
While some brands offer products that work with most washers type, others fit only specific attachments.
It is better to choose the one the manufacturer recommends. Otherwise, you may end up spending more money on getting the right fits.
Remember, it's crucial to check whether the wand you buy is attachable to your power washer or not. Because without the right attachments, the extension wand won't function.
Is it worth it to get a pressure washer extension wand?
The straightforward answer is yes. Without the extension wand, you have to climb a ladder every time you want to reach heights beyond your reach. And it's risky. Getting an injury while cleaning from a ladder is not very uncommon.
Anything that saves you from the risk of falling off the ladder is worth your money.
Final Words
Whether you are obsessed with cleaning or do routine washing once or twice a week, an extension wand can make your life a lot easier.
While an extension wand is a handy tool, it offers ample benefits. However, selecting the best pressure washer extension wand to invest your money is not easy.
In this guide, we did all the heavy-duty tasks on your part. Now, it's your turn to choose a suitable one accordingly!