If you're wondering what size pressure washer for 2 story house you should use, you're in the right place. We will discuss the ideal size, as well as the best pressure washers equipped to perform this task.
Washing the side of your house is a necessary chore that should be performed at least once a year. The accumulation of dirt, dust, and grime would not only result in an unsightly exterior, but might attract bugs and other insects. Furthermore, dust mites and mold tend to grow when the house is not cleaned thoroughly.
The best option for cleaning a 2 story house is a pressure washer. But what size pressure washer for 2 story house is the right one? There are many pressure washers out there. How do you choose the best sized one that is equipped to clean a 2 story structure? This guide is packed with tips for you.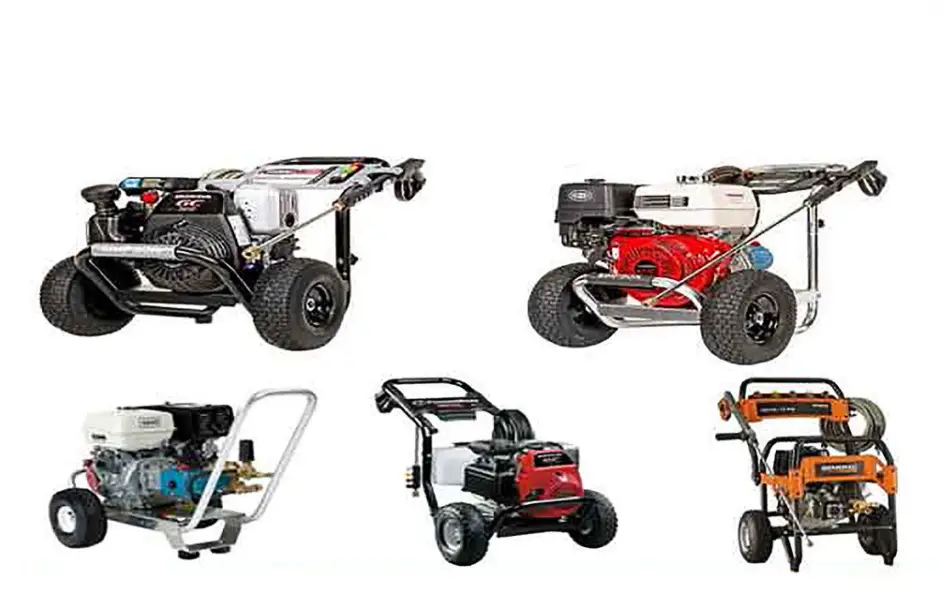 Read on for our guide on what size pressure washer for 2 story house so you do not waste your money!
What size pressure washer for 2 story house?
When people talk about size for a pressure washer, they do not mean small, medium, or large. What they are talking about is the pressure output of the pressure washer. The power is expressed in PSI or pounds per square inch. You will also see some products that indicate gallons per minute or GPM.
So, what size pressure washer for 2 story house must you buy? My recommendation is to get a heavy-duty pressure washer that is capable of delivering at least 2800 PSI or pounds per square inch. I also suggest that you get a product that releases at least 2.5 gallons per minute.
If you can find one that uses 4 gallons per minute or 4 GPM, then it is a better option. However, it may be more expensive. There are also products that offer at least 3,000 PSI. If you see these machines and they fit your budget, get them.
Why pressure wash a 2 story house?
Cleaning the sides of a 2 story house manually is a laborious task. With a pressure washer, you can save time and effort.
Pressure washers make use of high-pressure water to remove dirt, dust, mold, grime, spiderwebs, and much more, in just a small fraction of the time spent cleaning by hand.
Should you use an electric or gas pressure washer to clean a 2 story house?
The better option is the gas-powered pressure washer. They have more power and are easier to operate. They are tougher than electric models.
Gas-powered pressure washers are made for heavy-duty use. Because they have such power, they can remove gums and even tree saps that have already dried. If you will use it for removing paint, a gas-powered pressure washer is also much more reliable.
However, gas-powered pressure washers are huge—and they are noisy. I am not saying that you cannot use an electric pressure washer for a 2 story house. You can do this, but you will have problems later on with the performance.  
The only gripe you will have with gas-powered pressure washers is the noise. Sadly, there is no technology yet by which engines can keep really quiet. Despite this, there are many gas-power pressure washers that will not make you deaf—they are noisy but quiet enough not to damage your ears.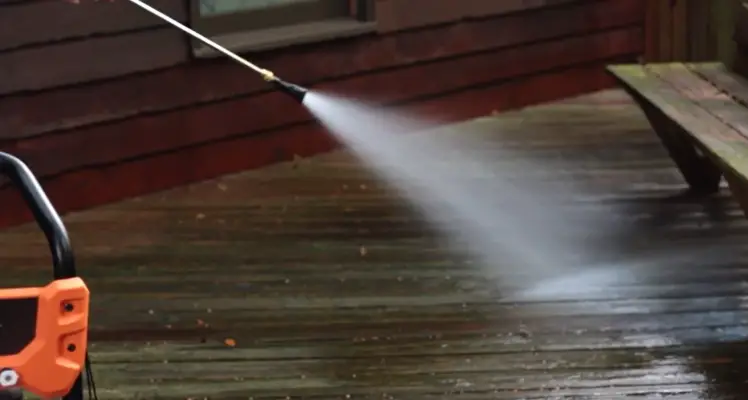 Best Pressure Washer for 2 Story House
Check on Amazon
What you will love about this model is that they made it into a complete system that has best-in-class cleaning power. It also comes with a complete set of cleaning attachments.
Pros
Cleans 50% faster than most gas-powered pressure washers
Has an ergonomic spray gun
Can be used for wood, car, patio, and concrete
Has turbo nozzle that helps remove grime faster
Comes with a hose 25 feet in length
Run time is 12 hours
Cons
If you buy this pressure washer for a 2 story house, you will experience a difference. It uses a 196cc OHV engine, which means it can deliver maximum cleaning performance.
The spray gun has an ergonomic design that allows you to adjust the pressure as needed. The purchase also comes with several quick-change nozzle tips. These nozzles are 0 degree, 25 degrees, and 40 degrees. It also comes with a soap nozzle.
For the question "what size pressure washer for 2 story house", the best one to choose is the Generac.
Check on Amazon
If you are looking for an all-in-one package best pressure washer for a 2 story house that will not break the bank, then this model is the best pressure washer for a 2 story house. What sets it apart from its competitors is its power. They also designed it for ease of use.
Pros
Powerful engine with 208 cc of power
Generates 3,200 PSI
Uses 2.5 gallons per minute
Great for general use
Includes four nozzles
Has large wheels that make it easy or you to move it around
Includes a 30-foot hose
Has soap tank and spray gun
Cons
The hose has a pipe dome, and it can be difficult to set-up
Can have problems with powering from the pull-rope
The product comes with two years of warranty. As a gas-powered machine, take note that it does require maintenance. You need to put oil in it, preferably a 4-stroke engine oil.
What size pressure washer for 2 story house? If you want a pressure washer that needs no fuss, choose this one. Just pour your detergent and you should be ready to go.
Check on Amazon
Is this a good buy? Simpson is a reliable pressure washer manufacturer. For this one, you get a lightweight pressure washer being gas-powered. It is perfect for homeowners, and you can easily move it around because it has wheels.
Pros
Has warranty on pump, engine, and frame
Works best for residential use
Easy to assemble, and it has an easy start functionality
The engine is made by Honda, so it is reliable
Maintenance-free
Has a powerful machine at 3,200 PSI and 2.5 GPM
Cons
Not for international shipping
Hose easily falls off the holder
Does this product meet what we are looking for? Specifically, what size pressure washer for 2 story house? Overall, this model is something you want to buy if you will use your pressure washer for your house only. Sure, it can also clean RVs and cards, but the PSI is too much for these purposes.
One good reason to buy this is its easy-assemble feature. It takes no more than 15 minutes of assembly time. It takes only intuition to figure out which belongs to what, and most of them have a snap-on design.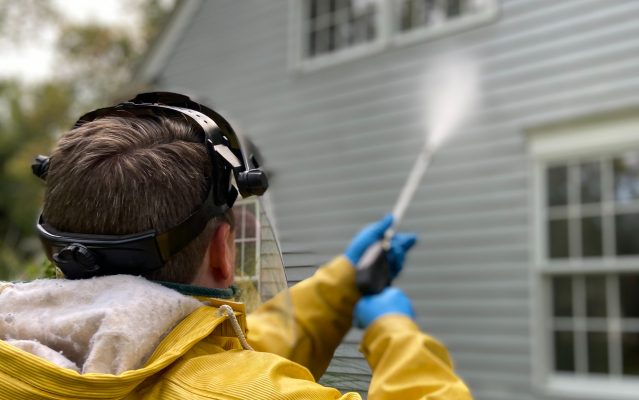 What size pressure washer for 2 story house: Cleaning tips when using a pressure washer
Here are some tips when performing your cleaning duties. Follow them to get the best cleaning experience from your pressure washer.
Clean the high side first and let the water drip; you must clean top-down
When soaping, soap from the bottom up to prevent streaking
Rinse from the top, not from the bottom
Maximize your pressure by following the spray pattern
Now that you know what size pressure washer for 2 story house to buy, take note that pressure washer accessories can help you do a more thorough cleaning. You may consider getting an extension wand to reach high areas. The best extension wands for a 2 story house are telescopic wands.
With these wands, your pressure washer's spray gun can be extended by 12 to 24 feet, without losing any pressure. Furthermore, these wands help to keep the pressure longer, so you can enjoy a more thorough and focused spray for the areas that are harder to reach.
Conclusion: What size pressure washer for 2 story house?
What size pressure washer for 2 story house? Remember that it must be at least 2,800 PSI and 2,5 GPM. If you have the best pressure washer for a 2 story house, it should only take you two hours to get the job done. After cleaning, make sure that you dry your pressure washer and disassemble the parts. Wipe it clean with a dry towel to prevent rusting.