"The old must always make way for the new,.." the dark graffiti on your boundary wall definitely needs to go and make way for new colors.
The first impression of your estate ought to be elegant. Thus, it's a call for a fresh paint job. The initial step for revamping is taking off the old coating.
Wet sandblasting is a quick and effective method of stripping paints and cleaning tough dirt. It is safer than traditional sandblasting. Besides, you can easily turn your existing pressure washer into a sandblasting machine, with a few extra bucks!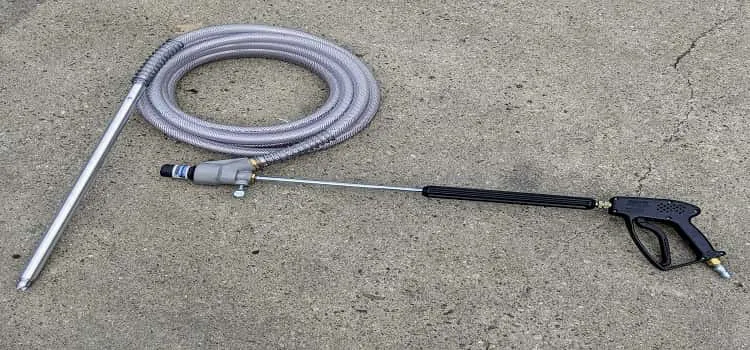 No graffiti stands a chance if you use the best pressure washer sandblasting kit along with your washer. Let's check out some of the options available to pick the suitable one that can satisfy your needs precisely. 
Best Pressure Washer Sandblasting Kit – Reviews
Angela&Alex Pressure Washer Sandblasting Kit
Let's start with a kit that is made to last. It's built with solid metals which have anti-rust properties.
We are talking about the Angela&Alex sandblasting kit that includes an extra replacement set to accommodate a long cleaning session.
You can couple it with a 5000 PSI power washer. The pressure level is very high and matches the industrial level.
It's a complete set. However, because abrasive particles deteriorate the delicate nozzle, it is necessary to change it from time to time. 
Thus, the company provides extra ceramic nozzles with the kit, so you don't have to make a new purchase anytime soon.
Use dry sand, soda, or washed river sand for better results which are easier for the sandwand to intake.
 In addition, it takes less time and elbow grease to break up accumulated grime and dirt out of any surface with this wet kit.
It is labor reducing and fast working. The materials are durable as they are made of stainless steel and brass. It is relatively heavier than other similar ones. So, you can be sure this kit is durable and will last longer.
Pros
You will be able to pair it with high-power pressure washers.
The hose is pretty long for working around the house or garden.
Metal nozzles are tough and wear-resistant.
The kit comes with extra attachments and replacement parts.
Dry sand, baking soda, and river sand are suitable for it. 
Cons
Kit's sandwand is a little short, which draws in less sand in the hose.
The water gets into the hose and clogs the pipe quickly.
Verdict
The extra replacement kits make their use convenient for you. If there is any trouble with the nozzle, you're able to replace it right away. 
Tool Daily Pressure Washer Sandblasting Kit
One of the most popular power washer accessories available is from tool daily. It does what it says, thus earned itself customer satisfaction.
The Tool daily sandblasting kit is cheap yet efficient. It lets you use the power of abrasive cleaning on a budget.
First of all, it comes in three different sizes of orifice ranging from 2.5 to 3.5. Accordingly, the different sizes have different water pressure rates.
The largest orifice has a minimum pressure of 3000 PSI and a 3 GPM flow rate. The maximum pressure is 5000 PSI.
Contractors use this much water pressure. The sandblasting kit is suitable for heavy-duty jobs and industrial uses. Thus, it is most preferable for professionals.
The power washer sandblaster kit works for abrasive cleaning. So, you can work on stubborn dirt and debris with ease.
These sandblasting attachments use silica, baking soda, or playsand, which are easily accessible at your local hardware store.
It can work on different surfaces like concrete, bare metal, tiles, and much more. But the abrasive media will differ for different jobs. For example, it works well with high-pressure washers.
The ¼ inch quick connects and disconnect inlet will attach to your power washer without any trouble.
Pros
You will be able to get rid of the toughest stains due to the high PSI.
It is made of brass and stainless steel; thus, it is very durable.
The quick connect and disconnect inlet attaches to most of the pressure washer models.
It can stand high-temperature water when used for cleaning grease.
Use various types of sand
Cons
It clogs very easily while working on a project.
You have to use high power pressure washers.
Verdict
It is mainly for professional use. However, if you're looking for a powerful sandblasting kit for domestic use, then this kit can be a suitable option.
Interstate Pneumatics PW5301 Wet DIY Sand Blaster Kit
Although the name states pneumatic, it's actually a water-operated sandblaster. Interstate Pneumatics PW5301 comes at a steep price point. But you get an 18 ft. PVC hose. 
The length is proper when you have to move around the project. Also, you will be able to keep the sand bucket at a distance to prevent it from getting wet.
The 0° tip is made for precision and intensity. You can sandblast the surface at the highest intensity at this angle.
The kit works well with standard power washers, which have 3500 PSI. Water output is much more manageable. You can sandblast a broader range of surfaces with this kit without damaging the surface.
One of the significant concerns of any sandblasting kit is clogging. The sand clogs the hose or the nozzle. 
Most of the complaints are regarding this issue even in popular brands. However, this kit doesn't have any kind of clogging or whatsoever.
The clear PVC pipe lets you check the sand flow and any disruption that occurs in the hose. As a result, you will be able to detect the problem and get rid of it as soon as possible.
Larger grit poly sand or jetlag is preferable with this kit. It sucks up pretty well and doesn't clog. The maximum flow rate is 10 gallons per minute, which is very high. 
More GPM means more rinsing capacity. Higher GPM and PSI combinations achieve better cleaning of your driveway.
Pros
The minimum and maximum PSI let you cover both heavy-duty and delicate sandblasting jobs.
The high flow rate combined with optimal PSI cleans the surface very efficiently.
It doesn't have a clogging problem like most other sandblasting kits.
Larger grit abrasive media is preferable for it.
The sand intake is pretty good in comparison to its competitors.
Cons
It is not suitable for finer abrasive media.
The PSI is not industrial level, so you cannot use it on concrete.
Verdict
The pressure range covers most surfaces like wood, metal, and plastic. Therefore, it is more suitable for cleaning than stripping paint.
Selkie Pressure Washer Sandblasting Kit
High stripping and rinsing capacity in the same kit produces a higher cleaning unit or CU. That is what professionals look for in any sandblasting kit.
Selkie wet sandblasting kit has those exact features to give you professional cleaning service at home. The maximum pressure rate is 5000 PSI.
The kit is easy to use because the quick-connect inlet attaches to the washer gun easily. In addition, individual replacement parts are available.
You can apply this method instead of traditional sandblasting. The kit is great at removing rust, paint, stains, or grease. You can easily sand and clean stubborn and irregular surfaces for a paint job.
Plus, it doesn't create dust like a traditional sandblaster. This is good for your respiratory health and environment. Also, less dust means after cleanup is less labor demanding.
The sandblasting kit is designed for durability, strength as well as longevity. It is made from premium quality materials that prevent rust and corrosion from frequent water interaction.
The chrome plating is one of the protective layers to prevent rust and corrosion from happening.
A small ¼ inch quick-connect attaches to the heavy-duty rubber hose. You can effectively clean your cars and motorbikes with this kit.
Pros
The maximum flow rate and working pressure combination are potent to clean or strip paint and rust.
A high flow rate adds more rinsing power to your cleaning.
It's made of heavy metals that are corrosion and rust-resistant.
Play sand is usable, but glass beads work better.
It is a durable sandblasting kit that will last you years.
Cons
The suction power is not up to the mark.
Fine grit abrasive media is not suitable for the attachment as it can't draw in those materials efficiently.
Verdict
It is more user and environment-friendly because it creates less dust than traditional sandblasting. But its performance is as good as the conventional method.
Pressure Washer Sandblasting Kit from AgiiMan
Want to add abrasive cleaning power to your spring cleaning routine? The top-quality household sandblasting kit is the solution.
The Agiiman sandblasting kit has a max working pressure of 3200 PSI and minimum pressure of 2500 PSI. This is suitable for different domestic use. 
For example, you can sandblast your driveway, car, roof, grills, plastic, wood, etc. sandblast surfaces around your house frequently for cleaning purposes.
The abrasive cleaning helps to lessen fatigue while you work. It eases seasonal cleaning chores, and you can work faster. 
The cleaning is more efficient because you can get into hard-to-reach areas with this kit. Also, the results will be cleaner that will look effortless.
The sandwand and the nozzle are made from thick, high-quality plastic. In addition, the nozzle has a ceramic tip that can withstand the friction from shooting silica.
The 10 ft. tube makes moving around and cleaning trouble-free. The transparent tube has a plus point that you can see through and solve any clogging that occurs within.
It is very lightweight, so you can work longer while holding it. With the help of this sandblasting kit, your cleaning chores will seem like a breeze.
Also, it fits the Karcher K series washers. The special adapter is attached to the water wand. So you get two inlets in this kit. Although the material is plastic, it can handle temperatures up to 60°C hot water.
Pros
Well thought out pressure range lets you couple both low and medium power pressure washer with it.
The inlet also fits the Karcher K series washer.
It is lightweight for carrying it around.
The suction power is excellent and draws in the sand without any disruption.
It works with any kind of sand.
Cons
The tip is not replaceable, which a big issue with any sandblaster as ceramic tips eventually wear out.
The nozzle wears out also with time.
Verdict
This is a sandblasting kit you want in your home for domestic cleaning and paint stripping services. It's preferable for quick and small cleaning projects.
Hourleey Pressure Washer Sandblasting Kit
It's so frustrating when your sandblaster kit is not drawing in enough sand! You can skip the headache and opt for a higher-rated suction-capable attachment.
Hourleey power washer sandblasting kit draws in the sand without any disruption and shoots water, sand mixture seamlessly.
The kit is made of durable material, brass, and stainless steel. It can handle 5000 PSI water pressure. Also works well for abrasive cleaning. It is excellent for removing paint, rust, baked-on grease as well as graffiti.
Baking soda, silica sand, washed river sand are the right media for this sandblasting kit. It has good suction power, which makes your work easier and faster. 
The cleaning ability is up to the mark, but it uses a lot of sand. The maximum temperature for this kit is 140 F. Use warm water to clean any surface without hesitation. 
It will get rid of any type of grease, wax that might be stuck to the wall. Even years old set gum doesn't stand a chance in front of its abrasive cleaning ability.
The minimum working pressure for this sandblasting kit is 3000 PSI at 2.5 GPM. It is suitable for automotive cleaning, etching, and preparing surfaces for paint.
Pros
Made of durable material, brass, and stainless steel.
It has a replaceable nozzle tip.
Extra pair of ceramic tips are included in the package that saves few extra bucks.
Relatively cheap sandblasting kit.
The sand intake capacity is top-notch.
Cons
It uses a lot of media when cleaning.
The water occasionally travels into the hose.
Verdict
It's a budget sandblasting kit that is suitable for domestic use. However, you have to follow more safety precautions when using it.
Valley Industries Universal Wet Sand Blast Kit
Some of us prefer quality over quantity. High-grade materials coupled with ample PSI are the right kind of kit for that.
The Valley Industries Universal sandblasting kit is designed with durability and performance in mind. Its maximum pressure is 4000 PSI combined with 10 gallons per minute flow rate.
You can tackle the most demanding pressure washing applications with this attachment. Also, you will be able to add abrasive cleaning power to your ordinary cleaning routine. 
The kit features ¼ inch inlet, so you can attach it to the water input wand. You can quickly connect and disconnect the water input wand when needed.
The attachment comes with a long suction hose which is a little less than 20 ft. it's quite durable and doesn't wear when using sand. 
Furthermore, you will be able to see if there is any clogging. The long hose is long enough to accommodate free movement but not too much to lose the suction efficiency.
The premium tungsten carbide nozzle is more sustainable than a ceramic tip. A stainless-steel nozzle tip is included for hassle-free operation. 
The carbide nozzle tip is one of the toughest materials which can tolerate high abrasive friction for a long time. Stainless steel stops rust even though it's handling water most of the time.
Although it comes at a steep price, the performance is excellent. It is made of high-quality materials for frequent usage.
Pros
It operates at optimal pressure for professional and household usage.
The flow rate is impressive, and a combination of PSI & GPM lets you work faster.
Long hose lets you keep the sand bucket afar.
It is made of high-quality materials.
The nozzle tip is tough and is made of carbide.
Cons
The price is relatively high.
It is pretty heavy to handle.
Verdict
The sandblasting kit comes at a steep price. Yet it gives a great value for money because it is made of high-quality materials.
M MINGLE Pressure Washer Sandblaster Kit
A lower price range doesn't mean you have to compromise performance. Industrial level abrasive cleaning is now available with a simple pressure washer attachment.
M Mingle's sandblasting kit requires a minimum pressure washer with 3000 PSI force. It is enough water force capable of cleaning concrete.
Pressure washer sandblaster attachment comprises a nozzle, hose, water input wand, sand input wand, and two hose clamps.
The entire sandblasting accessory suction feeds the sand into the water system. Use dry silica sand, baking soda, pool sand, or river sand.
Also, it fits almost all types of pressure washers which have ¼ inch quick connect at the end of the gun. It is a standard measurement for most of the washers.
Sandblaster kit is easy for you to carry and set up. It works for abrasive cleaning without the dusty part. Also, it is ideal for removing rust, graffiti, paint, grease, and grime.
A high-quality sandblaster kit is made from durable materials like brass and stainless steel. That's why it will not become rusty easily.
Pros
It is for professional-grade pressure washer attachment.
Can withstand hot water with ease.
Additionally, it is well built and sturdy.
The kit is made from anti-rust materials.
Dry silica sand, baking soda, or washed river sand are suitable for it which are easily available.
Cons
It clogs easily because the water travels back into the hose.
The suction power is not up to the mark.
Verdict
The kit works with different types of abrasive media. So, it is easy for you to choose any kind of sand that is locally available.
Twinkle Star Pressure Washer Sandblasting Kit
Replaceable nozzles are your go-to sandblasting attachment for your pressure washer if you intend to use them regularly.
Twinkle Star kit lets you replace the nozzle tip, which is very important. Because the abrasive media wears down the ceramic nozzle tip with time, you might have to purchase a new tip for every session if they are near 1 hour.
A high-quality sandblaster kit is made from durable materials – brass and stainless steel. Brass and steel are known to be anti-corrosion and rust-free materials. Since the kit will handle water all the time, it needs these characteristics.
The working pressure is up to 5000 PSI, and the higher water pressure cleans any surface effectively. The water temperature can reach up to 60ºC. So, don't hesitate to use hot water.
This sandblasting attachment performs better with baking soda, dry silica, and dried river sand. Other abrasives like glass beads, aluminum oxide is also suitable media for this kit.
The entire sandblasting accessory suction feeds the sand into the water system. Nozzle exerts the mixture through the tip with immense force.
Sand particles hit the surface and strip the rust or paint off. The water acts as a carrier and also a cleaning agent. Furthermore, it stops dust particles from flying off in the surrounding atmosphere.
Pros
You can pair it with high-pressure washers.
It works with a variety of abrasive media.
The nozzle tip is replaceable.
Also, an extra nozzle replacement kit comes with the package.
It has a satisfactory sand intake capacity.
Cons
At a minimum PSI, it does not draw in the sand.
It sometimes stops working amid operations.
Verdict
The sandblasting kit is durable and will last you years. You will have satisfactory service each time.
Top Shepherd Pressure Washer Sandblasting Kit
A helping hand is not readily available; hence an easy-to-use sandblasting attachment can save the day! You can get the job done without any help.
Top shepherd wet sandblasting kit easily cleans stains and rust with precision. The process is dustless and safe. It makes your hefty cleaning task into a piece of cake.
The minimum pressure requirement from the pressure washer is 2800 PSI, but it can reach up to 5000 PSI, which is very high.
You can easily strip paint, remove rust, clean concrete, and baked off stains and grease. The intense water pressure tackles the toughest stains without breaking a sweat.
It is compatible with different abrasive mediums. Unfortunately, you cannot use play sand with this particular kit. Play sand tends to clog the hose and stops the sandblasting process.
The kit is well built and sturdy. Due to heavy water and abrasive media use, metals are more likely to get corrosion. Further, become rusty. 
It is made of anti-rust materials like brass and stainless steel. So, no need to worry about equipment wear.
However, you'll have to keep in mind to keep the hose dry. This is to ensure the sand doesn't clog the pipe at the time of operation.
Pros
Minimum working pressure makes it perfect for plastic and wood cleaning.
It is well built and sturdy.
The kit is made from anti-rust materials.
The nozzle tip is replaceable.
More vigorous cleaning is possible as the kit can withstand high temperatures.
Cons
You cannot use play sand with it.
The hose sometimes clogs.
Verdict
The minimum PSI and maximum PSI make it a high-power sandblasting kit. Therefore, use it on various surfaces that need powerful cleaning.
Best Pressure Washer Sandblasting Kit Buying Guide
Wet sandblasting attachment is quite simple equipment. It simply consists of a hose and washer wand. 
But the structural materials make it long-lasting. If you don't invest in a quality kit, your sanding or cleaning progress will go back to square one.
Our recommendations are only friendly advice that will help you decide which kit to choose and how you can avoid re-purchase anytime soon. 
But you have to sort your priority features according to your needs, so you get the job done well. Here're some of the vital factors you can look at – 
PSI
PSI means pound per square inch, which measures stress applied per square inch. You will want a higher PSI sandblasting kit if your project has stubborn build-up on it. Although it will depend on what surface you're working on.
For instance, wood needs lower pressure sandblasting, which is around 1200 PSI. You will achieve great results with lower-rated sandblasting kits as they don't utilize too much pressure. 
On the other hand, concrete and rusty old metal surfaces need at least 3000 PSI pressure.
Here you will need a kit that has 5000 PSI. You will be able to conduct a wide range of heavy-duty cleaning operations. Go for a higher-rated sandblasting kit that will get the job done with less muscle power.
GPM
 There is a saying in the industry that PSI gets the job done, but GPM gets it done faster.
GPM means gallons per minute which refers to how many gallons of water flow out of your pressure washer. 
You want to select a sandblaster kit with a higher GPM because the combination of both PSI and GPM determines how fast and efficiently you finish your job.
High PSI combined with a good flow rate will strip the paint off any surface in an instant.
Sand Intake
 A good sandblasting kit should have more than average media intake capacity. This is one of the most reviewed concerns from customers. 
Kits with lousy suction power are a nuisance and will slow down work. That's why a kit with good media intake is necessary.
Nozzle Type
Nozzle is where water along with sand spray out. So the structure has to have superior quality materials. Also, they should be durable and corrosion-resistant.
Plastic nozzles are more corrosion resistant as they are not affected by water. They don't rust easily. Also, these nozzles require less aftercare. Yet there is a catch!
These nozzles are not as durable as brass or steel nozzles. However, because the water pressure is high in washers, higher PSI washers need metal nozzles.
Brass is one of the most suitable metals for nozzles after stainless steel. It is anti-corrosion and rust-free metal and very durable. 
It can withstand the immense pressure from the pressure washer. But it needs good aftercare. You have to dry it before storing it.
Nozzle Tip
The massive force by which the water and abrasive media exit the sandblaster and damages the nozzle tip. So, it is evident that the material must be heavy which can withstand force.
With time the tip will deteriorate. But the durable tip will wear out slowly, and you won't need to buy another replacement any time soon.
Ceramic nozzles are most popular for sandblasting kits. It's because they are durable. Also they economical. Ceramic is strong and very resistant to sand abrasion.
Carbide is a compound where is carbon combines with metal; one of the toughest materials used in cleaning equipment. 
They are most wear-resistant and occasionally need replacement. However, they come at a steep price. Nevertheless, they are worth your money.
Weight
 Lastly, you should look for a sandblasting kit that is lightweight. Because you will be carrying it around the project for an extended period of time, it should be easy to carry.
Why Should You Choose Wet Sandblasting over Dry Sandblasting?
Health and Environment Friendly
The dust is one of the main concerns for which contractors choose wet sandblasting instead of dry ones. It is detrimental to the technician's respiratory health. 
Also, it is harmful to the people existing in the vicinity of the operation. Longer cleaning sessions can harm kids at school or neighbors.
When you dry sandblast, the media particles hit the surface and bounce off into the surrounding area. It creates a cloud of dust which is harmful to inhale. 
Thus, it affects the air resulting in air pollution. But in wet sandblasting water, droplets catch the dust before it flies off. Hence there is no dust in the area.
Affordable
You can easily turn your pressure washer into a sandblasting machine, whereas the air compressor sandblasting machine costs relatively higher. 
So water-driven sandblasting equipment is more affordable and versatile. If you a pressure washer at home, turn it into a sandblasting machine with a few extra bucks.
Surface
Most of the surfaces that you will work on are compatible with wet sandblasting. Apart from wood, plastic, metal, concrete are suitable for wet sandblasting. 
So, get your sandblasting kit now. You can choose one from our best pressure washer sandblasting kit list, and you won't be disappointed.
How to Use a Sandblasting Kit?
Setup
1. Attach 1/4″ quick connect the plug to the washer water input wand.
2. Insert the sandwand into the appropriate abrasive media. You have to make sure it is dry sand, or else the project will fail.
3. Start the pressure washer. Turn on the trigger, then the mixing of water and sand will occur. The permanent nozzle shoots the mixture out. Make sure the hose is over the water wand.
4. If the hose is underneath the permanent nozzle, the water will go inside the hose. As a result, it will wet the sand, and then the media will not be sucked up into the tube.
5. After each use, dry the kit as soon as possible as it starts to rust after a day or two.
Drainage
After assembling the kit, place the surface where water drainage is available. This is important as you don't want the sand to get stuck in your backyard.
If you wish to reuse the abrasive media, place the project on a water-resistant tarp. This will collect the media and dry off the moisture. Then, you will be able to reuse the media for the next sandblasting session.
Safety
Sandblasting requires a lot of control and experience. When you are handling powerful pressure washers, you have to ensure your safety first. 
Therefore, you will need goggles, and they come with most of the sandblasting kits we have listed above.
Even though wet sandblasting doesn't create much dust, it still harmful to your lungs. So it is better to wear protective gear when operating.
Pressure Washer Sandblasting Kit FAQs
How much pressure do you need for sandblasting?
It depends on the type of surface you're working on. For example, wood needs the least amount of pressure, 1200 PSI, whereas concrete surfaces require more than 3000 PSI at 2.5 GPM. It also depends on the amount of rust and grease build-up.
Can you sandblast with a pressure washer?
If you search for dust-free sandblasting methods, wet sandblasting is the only other alternative. 
There are special sandblasting kits available in the market that attach to your pressure washer and let you clean or etch any surface you want dust-free.
Is sandblasting dangerous?
Sandblasting is dangerous due to the crystalline silica present in the abrasive media. Wet sandblasting minimize that hazard. You can choose other alternatives which are safer.
What type of soda do you use for sandblasting?
Sodium bicarbonate is suitable for sandblasting. It is regular soda you use at home. You can strip paint and grease with this medium.
What is the safest media for sandblasting?
Garnet or aluminum oxide both are non-silica bases abrasive media. Also, glass bead, baking soda are good options for sandblasting.
Conclusion
Sandblasting is the ideal solution for restoring a rusty, old car frame, stripping paint off your concrete walls. You can't do the job of a sandblasting kit with the pressure washer turbo nozzle.
Traditional, air-based sandblasting is costly and has a lot of risks for your lungs. That's why wet sandblasting is a better solution instead of dry sandblasting.
Moreover, wet sandblasting leaves the surfaces squeaky clean, which is unattainable by using only water power. That's how sandblasting kit adds more value to your basic pressure washer.
In short, the best pressure washer sandblasting kit will turn your ordinary washer into an extra-ordinary heavy cleaning machine. It will be a smart addition to your cleaning regime for effortless output.