Choosing the best STIHL saw for firewood isn't an easy task since there are dozens of STIHL saws on the market. Several STIHL chainsaws are leading the chainsaw sector. But, these chainsaws are not meant for cutting firewood. Specific STIHL chainsaws have specific usages. This feature makes it one of the biggest names in the market.
To keep your home warm, STIHL has manufactured some finest chainsaws. They are a big help for cutting firewood. Among them, we have selected three saws that are the best STIHL saws for firewood. Moreover, we have taken three best alternatives to STIHL chainsaws that offer similar performance if not better.
Our best choice can be the suitable one for you if it meets your needs. How? Well, the required amount of firewood varies from person to person. So, read the article to figure out which one is the perfect pick for you.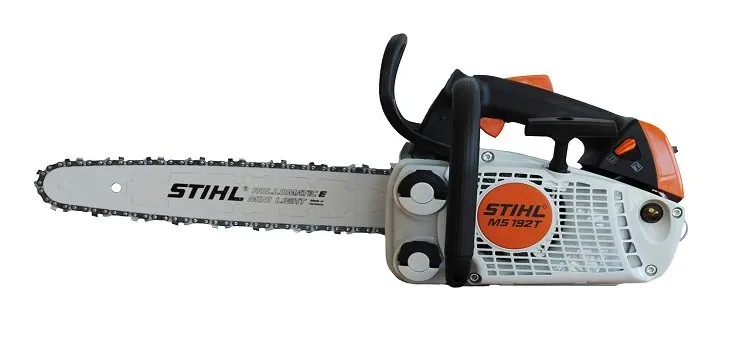 Best Firewood STIHL Saw Reviews
STIHL MS 362 C-M
MS 362 is considered as the best STIHL saw for firewood. So, our top pick is the MS 362 because of its high performance and impressive quality. MS 362 holds the top spot in the firewood cutting field.
MS 362 C-M is an environment-friendly chainsaw equipped with 2-MIX engine technology. It has gained popularity for less fuel consumption and less emission rate. Moreover, it has excellent firewood cutting performance.
The MS 362 features an HD air filtration system with pre-separation technology. The technology ensures longer filter life and extending engine life. It has STIHL's M-TRONIC electronic engine. So, you don't have to worry about manual carburetor tuning; the saw does it.
The start-up procedure of this saw has made it easier than ever before. To begin chopping your firewood, push the start level to the On position and pull.  This professional-level saw can cut through firewood and trees.
Fuel Tank Capacity: 20.3 oz
HD2-filter keeps dust away from the engine

Pre-separation air filtration system extends the service of the air filter

Decompression valve helps easy start-up

STIHL M-Tronic (M) helps during a cold start and reduces fuel consumption

Advanced combustion technology for perfect combustion and efficient performance

STIHL anti-vibration system reduces vibrations at the handles

STIHL Ematic-System ensures pinpoint lubrication
MS 271 Farm Boss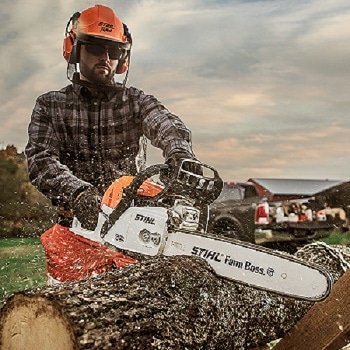 Another big guy in the firewood sector is MS 271 Farm Boss.  MS 271 is the second on the ladder of the best STIHL saw for firewood. It has come up with some surprising features and technology to address the drawbacks of MS 270. It has a highly efficient and convenient engine. The engine provides 20% longer run times between refueling.
MS 271 Farm Boss has reduced-emission engine technology to ensure environment-friendly operation. It has half exhaust emissions compared to the MS 270.
The saw has a pre-separation air filtration system. As a result, it can last up to five times longer compared to the MS 270. This filtration system provides longer life to the filter and adds to the engine life. It has the finest ergonomic design to ensure a safer and comfortable operation.
Specifications
Reduced-emission engine technology ensures the 

environment-friendly

operation

Pre-separation air filtration system boosts the engine efficiency and filter life

Anti-vibration system minimizes the level of vibration to ensure user comfort during work

Tool-less fuel and oil caps ensure easy tightening or loosening

Side-access chain tensioner for more convenient chain tuning
MS 180 Homeowner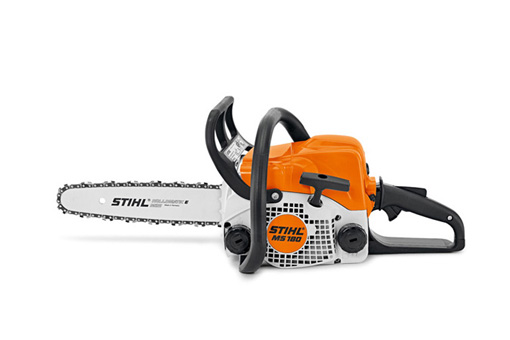 If you're looking for the best homeowner chainsaw and the lightweight STIHL saw for firewood at the same time, then MS 180 is the perfect solution for you. The MS 180 C-BE is a high tech gas-driven chainsaw. It is capable of tackling light-duty smoothly and effectively. The saw has an Easy2Start system that ensures easy start-up. Furthermore, it also reduces the fatigue of the users.
To start your woodcutting, a light pull on the start-up cord is enough. The tool-less chain system provides you easy and quick chain tuning provision.
The MS 180 has a compensating carburetor to make sure the perfect ratio of air and fuel. Sometimes the air filter becomes restricted due to overload. The carburetor removes that restriction. The incredible MS 180 C-BE is surely a big help for your firewood cutting chores.
Cylinder displacement: 31.8 cc
Stihl Easy2Start™ (E)ensures effortless start-ups

IntelliCarb™ Compensating Carburetor for automatic

adjustment

of air/fuel ratio

Quick chain adjuster allows quick tuning of the chain without the use of tools
Best Alternatives to STIHL Chainsaws
STIHL saws are typically expensive and heavier compared to other chainsaws. So, you may want to explore some other brands that are the best alternatives to STIHL saws. Here are some saws you can pick for your firewood gathering.
Husqvarna 455 Rancher
If you're looking for a chainsaw with all facilities of a STIHL saw, then go for Husqvarna 455 Rancher. The 455 Rancher is an impressive chainsaw for the landowners and the part-time users. It is a great saw for those who need a powerful and heavy-duty performer for their firewood gathering.
This saw is a responsive workmate for all cutting conditions. Moreover, it can handle an extensive workload. It features the latest technology and ergonomic design. Furthermore, it has all the characteristics of its predecessor.
Cylinder displacement: 55.5 cc

Fuel tank capacity: 14.4 oz

Oil tank capacity: 10.88 oz

Greatest power speed: 9000 rpm
X-torq technology for lowering fuel consumption and reducing exhaust emission

Smart start ensures quick start-up with minimal effort

Air injection system provides centrifugal air cleaning facility

Low vibration system reduces the vibration level and operator fatigue

Tool-less chain tensioning technology offers chain tuning without using tools
Husqvarna 450 Rancher
Husqvarna 450 Rancher is an all-around saw intended for high demanding cutting jobs. It suits well where extensive power is required. It has a long 20-inch bar that ensures the appropriate power for cutting firewood.
This robust chainsaw has an X-Torque engine. The engine offers high torque over a wide rpm range. To provide you easy handling and comfortable operation, the saw has an ergonomic design.
This saw provides huge power to cut through and it maintains adequate safety. It has so many important features including Smart Start, Air Injection, and LowVib. These features ensure the most efficient performance of the saw and total safety to the users.
Cylinder displacement: 50.2 cc

Greatest power speed: 9000 rpm
X-Torque technology for lowering fuel consumption and reducing exhaust emission

Smart start ensures quick start-up with minimal effort

Air injection system provides centrifugal air cleaning facility

Adjustable oil pump allows controlling oil flow maintaining weather condition

Quick-release air filter ensures proper cleaning of the air filter
Echo CS-590 Timber Wolf
Echo CS-590 is another outstanding saw that can
be counted
as the alternative to the STIHL saw. This saw
is known
as "Timber Wolf" because of its power and efficiency to cut through. This is an exclusive chainsaw you can use to heat your home on your homestead. This version of Echo is a beast that can cut several cords of wood annually.
The Echo CS-590 comes with a 20-inch bar and a 59.8 cc engine. These features are what most of people are looking for firewood cutting jobs. It has a well-manufactured chain that lasts 5X longer between sharpening.
It has the finest start-up technology that ensures easy starting during cold. You don't have to pull the start-up cord more than two times irrespective of the level of cold.
To be frank, this saw is an ultimate powerhouse. The case design is perfect that extends the durability of the saw.
Specifications
Cylinder displacement: 59.8 cc

Fuel tank capacity: 10.1 oz
Decompression valve for easy start-ups

Vibration dampening system for reducing vibration on the handles

Heavy-duty easy-access air filter

Side-access chain tensioning system

Dual-post chain brake system
Conclusion
To select a chainsaw for firewood gathering, we need to consider some important issues, such as power, weight, fuel consumption, vibration, and last but not least the price. Furthermore, the amount of firewood you need to gather plays an important role.
Remember, the chainsaw has performance limitations. As a result, gas-powered and electric chainsaws are different.
Choose the one that is perfect for your woodcutting jobs. Make sure it remains within the range of price you want to spend. We have tried our best to give you some insights about the best STIHL saw for firewood. If you have any queries, please feel free to let us know.
References
https://www.stihlusa.com/
https://www.husqvarna.com/us/products/chainsaws/
https://www.echo-usa.com/