Shrubs, bushes, and hedges are the beauty enhancer of your lawn when you care for them. But, they can be the reason for your headache if they grow on their own. To make your lawn look more beautiful and professional you need to trim them. If you don't know how to trim bushes with an electric trimmer, read the article to learn it.
There are mainly three types of trimmer you can use to trim your bushes. They are gas-powered trimmer, corded electric trimmer, and battery-powered trimmer. Today, we are going to discuss how to trim bushes with an electric trimmer. We are keeping both the corded electric and cordless electric (battery-powered) trimmer in our discussion.
An electric trimmer is quieter and lighter that gives you extra comfort during your trimming job. Taking this advantage, do not run your trimmer for a long period at stress. Working a long time will make you and your trimmer fatigued. Your hands and shoulder will lose control over the trimmer. That will be a matter of serious risk. Even, you may injure yourself badly!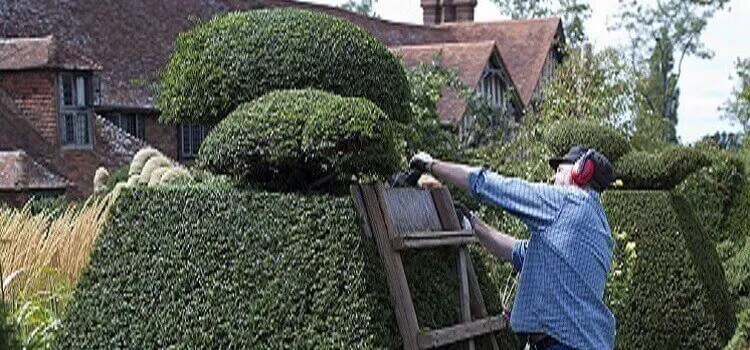 In this article, you will learn the followings:
Safety Aspects of an Electric Trimmer
How to trim bushes with an electric trimmer
Hunter tips for trimming
Safety Aspects of Using an Electric Trimmer for Bushes
Using an electric trimmer is quite easy and fun when you use the trimmer safely. Careless and complacency dealing with an electric trimmer create high risk. First of all, make sure your electric trimmer is serviceable. Inspect the power source irrespective of corded or cordless trimmer. Insufficient power or loose connection may stick you in the middle of your trimming job.
Do not hesitate to wear eye goggles and earmuffs before you start trimming. We recommend that you wear full-sleeve shirt along with foot-protector.
Be careful of the electric cord while you are trimming your bushes with a corded electric trimmer. One of the main demerits of the corded electric trimmer is its cord. If you forget to keep up a safe distance between trimmer head and cord, you may end up cutting your own cord!
In the time of your maneuvering, watch out for the electric cord's movement as well. Know the diameter and maximum length of your lawn and use a properly sized cord.
Do not try to trim with one hand. Always use both hands to hold the trimmer. You don't need to hold the bushes or shrubs. Just take control of your trimmer, not the bushes.
Trimming Bushes with an Electric Trimmer
Any machine that is operated by electricity can both be your friends and foe. If you run them perfectly, they will help you with their lives. On the contrary, if you can't, they will behave rudely. To keep the procedure of trimming simple and easy we will discuss it step by step. You just need to follow these easy steps to trim with your electric trimmer.
Step One
Make sure your trimmer is in off position before you plug it on electricity. If it is a cordless electric trimmer, skip this phase. Place your trimmer near the bushes or shrubs that you need to trim. You can place a tarp around the bushes to make your cleaning job easier.
Step Two
Hold the trimmer with both hands and switch it On. Do not apply extra force on the trimmer. But do not hold it loosely. Hold it tight and make a gentle push to move it up and down.
Step Three
For making the smart and professional looking cut, try to guide your trimmer from bottom of the bushes to the top. Make the top of the bushes narrower than the bottom. This cutting shape will enhance the beauty of your lawn. Do not get me wrong, you can do it in a reverse way as well!
Step Four
During your trimming, watch out for old and dead branches of the bushes. If you pick out those branches, it will give extra benefit to your bushes. Old and dead branches make bushes bear extra weight. They add nothing but make the bushes untidy and old-looking. If possible cut and remove them completely from your lawn. It will enhance the beauty of your lawn.
Step Five
Keep your bushes at least six-inch deep. If you trim more than that, you are going to uncover the ugly brown or dead leaves and branches! You do not want to show ugly bushes to your neighbor, do you? You can trim more than six-inch deep around the bushes where it is on the hidden side.
Step Six
You can trim the bushes with the electric trimmer to give the bushes different shape. To do that, scheme a plan keeping the lawn structure in your mind. You can make your bushes round or pyramid-shaped depending on your lawn shape. Try to select the shape that makes your lawn look professional and enticing!
Step Seven
Switch off the trimmer trigger between the intervals of trimming. You don't need to switch off your trimmer engine. Just disengage the power between the engine and the trimmer blade with the help of the trigger or button. This will prevent unwanted trimming and unexpected incidents.
Switching off engine too many times will cut engine life and consume more electricity. When you disengage trimmer blade, it will run on the idle position. That's fine. After finishing your trimming job, turn off the trimmer by pulling the trigger. Clean the trimmer blade and store it to the right place.
Hunter Tips
If you need to trim a large-scale lawn, then you may use a gas-operated trimmer. But, you can use an electric trimmer for that job by investing a bit extra time. Furthermore, there are some electric trimmers that have equal power to the gas ones. If your trimmer is not that much powerful, do not force it. Take care of your trimmer and it will care your lawn in turns!
To get better performance and safer behavior from your trimmer, you should read the user manual thoroughly.
Conclusion
Trimming bushes with an electric trimmer is not a tough task. Don't let the sound of the trimmer fool you. Always keep an eye on the power cord and the trimmer blade. Hopefully, this article was helpful to boost your confidence in using an electric trimmer.