Pressure washers are not commonly associated with being quiet. However, sometimes there is the need to clean without excessive noise. For homeowners, the need to own the quietest pressure washers might stem from having sensitive ears, a dislike of high decibels, or simply wanting to be considerate to others in the precinct. For pressure washing companies, the need for the quietest pressure washers might arise from concern for the health of the workers who operate the pressure washers and also the desire to avoid potential complaints from residents around the cleaning site.
The quietest pressure washers enable homeowners and contractors to perform a thorough cleaning job as quietly as possible without sacrificing quality. Generally, electric models are quieter than gas models, as an electric motor makes a lot less noise than a gas engine. In the case of electric pressure washers, it is the pump that makes the most noise. Some models have quieter pumps and have better sound insulation.
Looking for the quietest pressure washers? Our top pick is Sun Joe SPX3001 14.5 Amp Electric Pressure Washer with Hose Reel, because it is quiet, affordable, and packed with all the features you need to perform an efficient cleaning task. It is suitable for commercial and non-commercial use. In addition, the lengthier warranty of 2 years gives you peace of mind.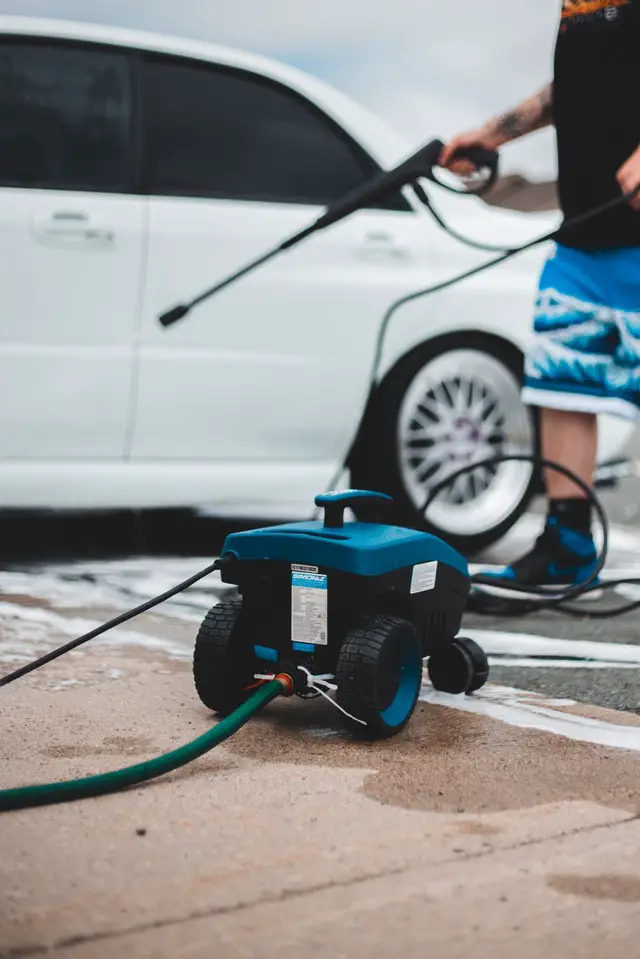 Types of Quiet Pressure Washers on the Market
Currently, there are four different types of pressure washers on the market. That is electric, petrol, hot water pressure washers, and chemical mixture pressure washers.  Without an engine and no need for fuel. electric pressure washers are quieter, easier to maneuver, and lighter than the other models. This article will focus on the quietest electric pressure washers.
Experts and veteran pressure washer users recommend buying an electric power washer that plugs into between 110 Volts and 240V electric power supplies. Compared to gas-powered pressure washers that offer up to 5000 PSI, electric-powered pressure washers offer less pressure, usually between 2000 PSI to 4000 PSI. This makes electric pressure washers suitable for home and commercial use. For industrial use, say cleaning chemicals, or paint removal for a larger area, you will need a gas-powered pressure washer.
Factors to Consider When Choosing the Quietest Pressure Washers
The noise level or decibel rating is not usually disclosed by the manufacturer. Aside from the noise level, the factors to consider when choosing the quietest pressure washers are as follows:
Pressure
The motor is usually the part of the pressure washer which generates most of the noise, so the quietest pressure washers are slightly weaker when it comes to output pressure. The difference is not significant, so the slightly weaker water pressure is a worthwhile trade-off for a quieter cleaning job.
The power of pressure washers is measured by GPM and PSI.
GPM represents 'gallons per minute', and it refers to the volume of water that the pressure washer's pump can handle per minute. This number ranges from 1 and 3, with most non-commercial electric pressure washers measuring between 1.5 and 2 GPM. The quietest pressure washers are usually on the lower end of the range.
PSI represents 'pounds per square inch', and it refers to the amount of cleaning pressure the machine can produce.PSI usually ranges from 1500 to 3000 in electric pressure washers, and 3000 to 5000 in gas pressure washers. Majority of the quietest pressure washers are in the 2000 to 2500 range.
Size
Check to ensure you have sufficient storage area for the quietest pressure washers you are considering. Most of the quietest electric pressure washers are compact and have an upright design. This type of design means that the pressure washers tend to be tall instead of wide. Ensure your storage space has adequate space for the height of your pressure washer.
Weight
If you are a homeowner looking to use your pressure washer at home, you most likely just need to wheel your pressure washer around your porch, yard, and garage.
However, if you are a contractor who needs to transport the pressure washer for use at multiple locations, the weight of the pressure washer becomes more crucial to consider.
Should a lightweight pressure washer be an important factor for you, go for electric pressure washers because these are much more lightweight than gas ones. All of the quietest pressure washers in this guide are electric, and their average weight is slightly less than 30 pounds.
Cord and Hose Length
Cord and hose lengths are vital factors to consider because they determine your range of movement when cleaning.
If the power cord is too long, there will be the risk of the cord coiling during use. This can cause overheating.
It is advisable to measure the distance between the electric outlet and the furthest point you need to pressure wash, and choose the cord and hose length suitable for that distance.
That way, you will be able to decide which of the quietest pressure washers is best for the area you intend to clean.
Attachments
Some of the quietest pressure washers come with more attachments than others, so this is a factor to look out for. It is also worth noting that most pressure washers come with four to five nozzle attachments, these attachments are suitable for different duties, so make sure that you read the manual or attach the right nozzle for the job to avoid damaging paint or ruining surfaces.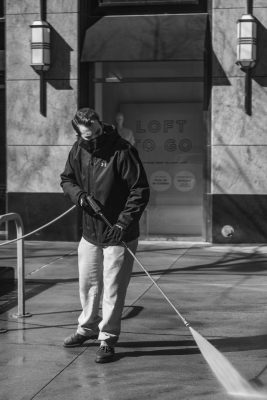 PSI and GPM Guide for the Quietest Pressure Washers vs Other Types of Pressure Washers
For light duties or smaller jobs such as cleaning a patio, grill, furniture, or vehicle, 1300 to 1900 PSI at 2 GPM should be enough.
Medium duty pressure washers: Most electric pressure washers fit this category, that is, they offer you between 2000 to 3000 PSI at 2 to 3 GPM. That makes them suitable for both home and commercial use. They will clean mold, driveways, walkways, paint, vehicles, and other flat surfaces.
Heavy-duty pressure washers: Heavy-duty pressure washers are designed to handle the toughest cleaning jobs. If you need clean paint, graffiti, or enough pressure to clean a large building or vehicle, this is the category to choose from. However, pressures ranging from 2800 at 3 to 4 GPM -is enough to cause cosmetic damage on flat surfaces, so we recommend attaching the right nozzle to avoid damaging paint on your car or home.
For home or vehicle use, avoid overpowered pressure washers as they may damage your vehicles or home's paint.
Red nozzle/0 degrees: concentrated nozzle is the most powerful nozzle. may damage paint.
Yellow nozzle/15 degrees: best for heavy-duty cleaning.
Green nozzle/25 degrees: safe for general cleaning, will not damage the paint.
White nozzle/40 degrees: safe for vehicles, boats, and easy to damage surfaces.
Black nozzle/65 degrees: low-pressure nozzle designed to apply soap or other cleaning agents.
Tips for Using a Pressure Washer
Read the manufacturers' "care and use" instructions to increase durability.
Learn how to turn on or off the device before starting it to avoid accidents.
Wear eye protection: high water velocity may pick up projectiles that may injure you.
Do not use a pressure washer if you are on an unsecured ladder or unstable ground.
Spraying water at people or animals may lead to injury, so do not point the gun at anyone, especially with the red nozzle or 0-degree nozzle attached.
Do not spray power lines, electric fixtures, or power sources.
All the quietest pressure washers on this list have undergone performance and safety testing. Because of that, all models offer quality performance and are safe to use.
Best Quietest Pressure Washers
After days of research and testing, we compiled the five best quietest pressure washers suitable for home and commercial use. Besides the criteria of quiet operation, all the quietest pressure washers discussed below were assessed based on the following factors:
Quality
Portability
Maintenance required
Durability
Ability to handle the toughest cleaning jobs
Water pressure
Size
Here are the best quietest pressure washers:
Check on Amazon
This quiet pressure washer delivers enough power to remove grease, heavy mold, stains, oil, and rust. The added advantage is that it costs less than $200.
Noteworthy Features:
Generates up to 2030 internal PSI AND 1.76 GPM
5 quick-connect spray tips for light, medium, and heavy-duty spraying.
Auto shut off when the trigger is not engaged
A Closer Look:
The Sun Joe SPX3001 emerged as our top pick when assessing the best quietest pressure washers. Compared to the Green Works Pro 2300 Max pressure washer below, Sun Joe SPX3001 delivers less power, but that does not mean that it lacks the power to pressure wash tough stains. The 1800-watt motor generates up to 2030 PSI and 1450 PSI working pressure. That is enough to remove mold or paint depending on the nozzle in use.
It is a corded plug-and-play pressure washer meaning no emission, and you can thus use it both indoors and outdoors. To save energy and water, Sun Joe SPX3001 features a TSS or total stop system that turns off the pump when you remove your finger from the trigger or when the trigger is not engaged.
An onboard 20-foot reel keeps the pressure horse organized and makes storage easy, and the five quick connect nozzle tips make it suitable for both light and heavy pressure washing. An added advantage is that it only ways 28.4 pounds, and it has an ergonomic design, meaning you may use it for extended periods.
A foam cannon, patio cleaning attachment, and universal sky lance are useful features that come with this pressure washer.
Its compact ergonomic designs mean that it will take too much space in your storage area. Furthermore, 1.76 GPM is enough to remove insect splats from your vehicle, caked mud, gunk, grime, and stains that may afflict your yard or vehicle. You may also use it to clean your driveway, paths, oil spills, grease, or even graffiti.
Lightweight and compact, this pressure washer is the perfect addition to your yard and home. Automatic shutoff saves water solar, or battery power, and it does not need too much power to run.
A lightweight design, good build quality, easy controls, and practical attachments make the Sun Joe SPX3001 versatile, durable, and easy to maneuver, thus one of the best quietest pressure washers for home or commercial use. Zero-emission makes it safe to use indoors.
Pros
Affordable and enough power to rival gas powered washers
Corded pressure washer with easy-to-use controls
Total stop safety system
Ergonomic, compact, lightweight design
Useful attachments
Nice selection of nozzles
Good flow rate
Emission free
Cons
Short hose. You may need to purchase an extension.
Check on Amazon
Overview:
This is a quiet high-powered pressure washer for indoor and outdoor cleaning. The turbo tip offers maximum performance, and Jetflow technology delivers 50% more flow. Spray can reach up to twenty feet.
Noteworthy Features:
Delivers 2300 PSI and 2.3 GPM
Quiet operation and longer run time
Sprays up to twenty feet
5 quick-attach nozzles
A Closer Look:
This powerful device is one of the quietest pressure washers. The turbo nozzle is the most powerful of all the pressure washers in this guide, making it vital to check which nozzle is installed before use. We were impressed by the power this pressure washer can deliver without making too much noise. There is a pressure dial that gives you full control of the pressure.
2300 PSI of force makes this an ideal option if you are looking for the quietest pressure washers perfect for cleaning driveways, windows, outdoor furniture, and decks. When you take the washer inside, turning down the pressure allows you to clean indoor items or even walls without damaging the paint. You may also use it to clean brick driveways, paths, or walls.
In the box, you will get 5-quick-connect nozzles. The turbo nozzle is the most powerful.
Quick Power Rinsing Jetflow technology, an onboard detergent tank, and a 35-foot power cord mean that this pressure washer prepares you for the toughest of jobs.
A powerful stance and the tangle-free horse make the pressure washer usable in gardens, and the brushless motor technology provides added torque for extra tenacity.
Compared to gas-powered pressure washers in the family, this pressure washer is quiet, lighter, and the performance is just as good or better than gas-powered pressure washers within its price range.
This pressure washer is perfect for indoor or outdoor use. Zero-emission means that you can use it inside without filling your space with smoke or other harmful particles. You may also use it to wash your car or to start a car wash business.
Pros
Good build quality and flow rate
Suitable for indoor and outdoor use
Low noise
Long power cable
Does not smoke
Small footprint
Quality nozzles
Cons
Check on Amazon
Overview:
This is a quiet high-pressure washer, best for professional cleaners, commercial, and home use. Combining a practical portable lightweight design and high-pressure results in a tool that cleans the toughest stains.
Noteworthy Features:
3800 PSI and 2.8GPM
4 Quick connect nozzles
low noise electromagnetic induction high power motor
A Closer Look:
Compared to other quietest pressure washers on this list, 3800 PSI and 2.8GPM is a lot of power. That is enough pressure to remove paint, graffiti, dried mud cakes, dirt, grease, and black mold.
Aesthetically, the design is simple, but what matters is under the hood. As mentioned, this pressure washer delivers 3800 PSI and 2.8 GPM at 1800 watts. That is higher than the recommended pressure range. This makes the item perfect for commercial use or heavy-duty cleaning. The product features a 19.8-foot hose, it is electric and has a soap tank.
Powering the device is a low noise electromagnetic induction high power motor. The pistol handle is easy on the hands, the five nozzles allow you to safely clean different surfaces without damage, and it comes in two styles and three different colors.
What makes this pressure washer stand out is how much power it packs. It is not too powerful when compared to a 5000 PSI washer, and it is not underpowered. Couple that with a low price, and you have an affordable washer suitable for commercial and home use.
This pressure washer only weighs 23.3 pounds, and it has an ergonomic lightweight design, thus making it easy to store.
If your driveway is covered with dirt and mold, or if you need a heavy-duty machine for yard work, cleaning cars, or indoor use, this is the pressure washer for you.
The high pressure and five nozzles make this pressure washer suitable for cleaning paint or intense cleaning jobs, and wooden or concrete surfaces including sidewalks, driveways, brick patios, and vehicles/ farm or lawn equipment.
This high-powered pressure washer has a lightweight ergonomic design, meaning it delivers all the pressure you need and is highly mobile. Therefore, if you need an easily maneuverable and versatile washer that packs enough pressure to remove stains from concrete, steel, wood, or other surfaces, this is one of the best quietest pressure washers to get.
Pros
Low noise and great selection of nozzles
Emission free with good flow rate
Can be used at home or commercially
Lightweight and easy to maneuver
 Compact and durable
Cons
Check on Amazon
Overview:
Retailing at an affordable price on Amazon, this pressure washer offers you an excellent selection of nozzles, a long-powered cord, and enough pressure to remove tough stains on driveways, cars, walls, or other flat surfaces.
Noteworthy Features:
2030 PSI at 1.76 GPM
14.5 AMP
5 Quick attach nozzles
A Closer Look:
A simple ergonomic design, 2030 pounds per square inch maximum pressure, and an auto shut off feature that shuts off the pump when you take your hand off the trigger make this one of the best quietest pressure washers.
The washer features a 1800-watt motor that generates 1.7 GPM when the nozzle is open. 5 quick-attach nozzles prepare you for a multitude of tasks. You may use it to clean vehicles, fences, and patios. The electric motor runs quiet -and it only weighs 28.4 pounds. Meaning storing it is easy, and it is highly portable.
In the same family as the Sun Joe SPX3001 which we discussed above, the Sun Joe SPX3000 is lower priced, but delivers the same results and PSI (2030 PSI). The main difference between the two pressure washers is the built-in hose wheel that allows for on-board storage of the hose. The SPX3001 hose reel has a crank that allows for convenient winding and unwinding of the hose. If budget is more important to you than the slightly more convenient hose storage function, then the SPX3000 is an ideal option.
At 1800 watts, you may use the SPX3000 it with solar or RV batteries, meaning, it is energy efficient and does not emit harmful particles.
A 34-inch extension spray allows you to reach unreachable areas in your yard and home. It has rear wheels for portability and, as mentioned, is lightweight and easy to maneuver. The controls are simple and comfortable, and the 20-foot hose is just the right length for cleaning your yard and home.
Considering that this quiet pressure washer costs less than $160 and delivers just as much pressure as more expensive washers, it is a strong candidate for the best quietest pressure washers.
The SPX3000 pressure washer is also available in multiple colors–green, black, blue, and red.
Pros
Quality easy to attach nozzles
Long power cord
Ergonomic lightweight design
Low noise electric motor
Affordable.
Easy to use controls
Cons
20-foot hose. Shorter compared to other candidates on this list that average 25 feet.
Check on Amazon
Overview:
A budget high power quiet pressure washer built for the toughest lawn, car, or driveway jobs. We recommend it for commercial use.
Maximum pressure: 3800 pounds per square inch
Corded electric
2000w powerful motor
Leakproof connections
4 quick-attach nozzles
A Closer Look:
This pressure washer is a great pick when it comes to the best quietest pressure washers. 3800 PSI makes this pressure washer the highest power candidate on this list. That pressure is enough to use in a commercial setting or at home. The waterproof connections do not wastewater, and the auto shut-off features ensure that you do not waste energy. Featuring a 2000w motor that runs quiet, the item is environmentally friendly, and the GFCI plug prevents electric leakage.
When it comes to protection, this pressure washer offers you IPX5 waterproof protection, GFCI protection, and a total stop system.
A 20-foot-high pressure hose that you can wind around the reel gives you enough legroom to handle large tasks, the ergonomic design, handles, and controls make the device both comfortable and easy to use. Unlike the other quietest pressure washers on this list that feature five quick-connect spray nozzles, Suyncll quiet Pressure Washer, 3800PSI Electric Power Washer, only features four. That is one for foam, all-purpose cleaning, spot cleaning, and a high-powered nozzle for tough jobs.
A stand out feature is that you do not have to connect the hose on this quiet pressure washer to a faucet. The item supports water supplies, including buckets, pools, or any body of water. Just make sure that there is no debris that may clog up the inside.
Storage-wise, the pressure washer is compact, it features a holder for the spray gun, and the cord hook secures the cord.
If you run a car wash or cleaning business and are looking for a high-powered pressure washer. Most people would recommend a gas powered washer. However, this budget electric-powered quiet pressure washer offers you the same performance as gas-powered washers -but without the emissions and noise. 3800 pounds of water pressure is enough to clean caked mud, fences, sidewalks, paint, wood, and other flat surfaces.
You may use it to clean driveways, patios, steel, cars, mud, and other flat surfaces.
This pressure washer is energy star certified, and the IPX5 waterproof protection system keeps both the user and the washer protected at all times.
Pros
Low noise powerful motor
Long, 35-foot power cord and long hose
Ergonomic lightweight design
Good build quality
Easy to use controls
Cons
Conclusion
Owning the quietest pressure washers benefits you in that you will be well equipped for any home or commercial cleaning task, even when a quieter output is required. Furthermore, electric pressure washers are emission-free, meaning, you may safely use them both indoors and outdoors. Instead of scrubbing driveways, walls, patios, and other surfaces on your hands and knees, you can save a lot of time and effort by using a high-quality pressure washer. With these quietest pressure washers above, you can complete any cleaning tasks at a reduced noise level.